End of an era… We farewell the Ford Falcon End of an era… We farewell the Ford Falcon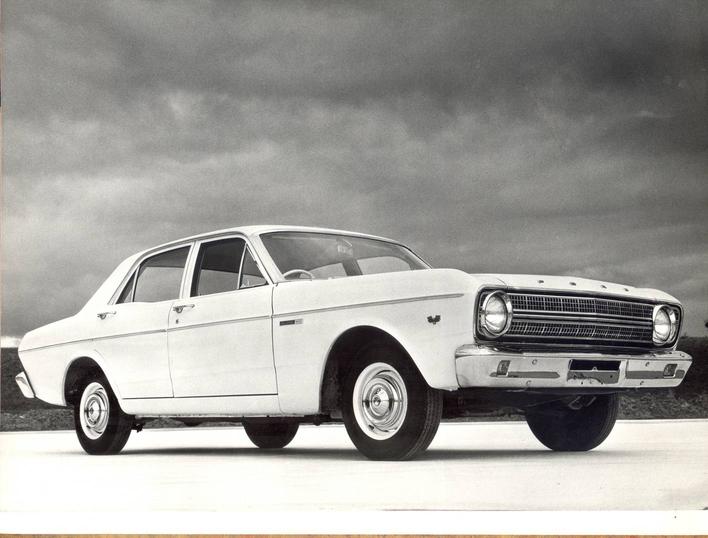 From its arrival in the 1950s to the XP Durability Run in the 1960s, and numerous Bathurst wins, the Ford Falcon was synonymous with Aussie motoring.
FROM THE 1960S until quite recently, a Falcon or Holden equivalent has been the default purchase for all sorts of purposes. These have included families drawn towards station wagons, driving enthusiasts, luxury-car buyers, company fleets, police patrols, taxis, limousine services and first-car buyers who'd be proud of a used model.
Such cars have also been the favourite choice for tricking up, aesthetically and mechanically. Dozens of Falcon related clubs exist, catering to both classic and racing interests. But Ford's first forays into providing a locally built family car, to challenge Holden's established model, provided no hint that just around the corner were cars as majestic as the Falcon GT. And you'd have been considered unsound in logic if you had predicted a Falcon at some point would fetch $683,650, as the race-focused GT-HO Phase III did in 2007.
Racked by suspension failure, the earliest Falcons also provided no sign the model would make it all the way to late 2016, with total sales of more than 3.5 million.
The Falcon story began in 1955, seven years after the launch of the General Motors Holden FX, which was followed by the long-running icon, the FJ.
Ford Australia (hereafter referred to as Ford) was eyeing the international Zephyr model to play a similar role to the FJ – as a mass-market family car built from the ground up in Australia and suited to local conditions. The Zephyr was already being assembled in Australia from imported UK parts, but the era's high import tariffs meant the Zephyr couldn't compete with the Holden on price.
In 1958, Ford changed its mind on the Zephyr when managing director Charles Smith was impressed by a mock-up of the Falcon, a sedan under design in Canada for North American markets. But it wasn't only the car design that was imported from Canada.
So too was the design for the assembly plant, which featured accentuated roof pitches to facilitate snow dispersal. Yep, snow. In Australia.
The Falcon story which neatly falls into seven chapters is spelled out in greater detail below, but from that first model in the 1950s until the last one, the Falcon was a good car indeed, just not the type we wanted any more. But that's done, and there's so much to celebrate about the ways the Falcon in its many guises and performance offshoots has enriched Australian lives.
Looking forward, many of the Falcon designers and engineers will continue to influence the shape of global Fords to come from a respected Australian design hub.
And there will always be Falcons about, like the gold XY GT owned by the bloke who lives opposite my house, to unleash our nostalgia.
Billed as "Australian, with a world of difference", the pioneering Falcon was the 1960 XK four-door sedan. It wowed buyers with aesthetics that were so sleek and cool they made Holden's FB seem dated and dowdy. It came in two trim levels, 2.4 and later 2.8-litre six-cylinder engines, and the choice of a three-speed manual or two-speed auto.
The XM and XL followed (but some people, mainly due to the car's suspension frailties, began calling it the "Foul can") but it was the 1965 XP that was pivotal in combating doubts about the Falcon's fitness for Australia's tough conditions. It was vital to Ford that 1965's XP be excellent, both in fact and buyers' perception.
Acting with boldness, or was it foolhardiness, Ford decided to put the new model through the mother of all tests, branded the XP Durability Run. It was to be conducted at a rugged, undulating and unlit circuit in Victoria's You Yang ranges, where five XPs would be driven for nine days non-stop, apart from pitting, at an average speed of 116kmh. And they did it.
The Falcon was available in other body styles during the 1960s: a station wagon (late 1960), ute (1961) and two-door hardtop coupe (1964). The panel van, which debuted in 1961, was called the Falcon Sedan Delivery, though in later decades such body types became better known for conception than delivery. Having brief lives were early names for luxury variants – Deluxe, Futura and Squire, the latter used for an upmarket station wagon variant with fibreglass side and tailgate panels meant to look like wood. Ugh. The superb 1965 XP introduced the Fairmont monicker for up-spec sedans and wagons, and it stuck. This model also had beefier suspension and brakes, three-speed auto and optional spirited 3.3-litre engine and front disc brakes. It was Wheels Car of the Year for 1965. XPs modified by Bill Warner provided surging V8 power and are widely considered to be precursors of the iconic GT Falcon.
The "Mustang-bred Falcon" advertising slogan for the new-generation XR of 1966 seemed over-egged at first but was arguably factual. This bulked-up, meaner-looking model heralded Ford's great era of muscle cars for the street and racetrack.
During this period, it dawned on Ford and Holden that winning somewhere such as Bathurst on Sunday was gold for car sales on Monday. The XR's imposing presence was a perfect match for the 150kW 4.7-litre V8 power that became available even in base-spec Falcons. A great moment in Falcon and Aussie muscle-car history was the addition of a GT variant in 1967. It deployed a 168kW V8 sourced from the Ford Mustang, giving added relevance to the above slogan. Most were painted gold, making the few that were silver, bronze, white, green or maroon rare indeed.
After the XR, which gave the Falcon back-to-back Wheels gongs, came the mildly-facelifted XT and aggressively styled XW and XY, which had stronger C-pillars that made the cars appear larger. It was a period when engine sizes kept heading north, the six-cylinder offerings growing as big as 4.1 litres, the V8s to 4.9 litres in regular Falcons and 5.8 litres in sports models.
The era's touring-car rules, which required race cars to be production models with only minor modifications, spurred the development of the most collectable Australian classic car, the GT-HO. It looked like a GT but had more oomph, better suspension, larger Holley carburettors and other sporting edges. Also an XW offspring was the GS, a cheaper option to the GT. The final version of these second-gen models, the XY, is widely seen as the best Falcon, based on Bathurst dominance and the degree of superiority over rivals in performance, build quality and refinement.
The GT-HO Phase III's 5.8-litre Cleveland V8 produced 280kW, 513Nm, 6.4sec 0-100km/h time and a top speed of 227kmh, making it arguably the world's fastest four-door production car at the time. The model, of which just 300 units were made, set an Australian auction record of $683,650 in 2007.
With its more-curvaceous third-generation Falcon, Ford went back to beginning of the alphabet – XA, XB and XC. But genesis lettering was appropriate. The Falcon had been terminated in North America so the XA marked the beginning of design self-reliance.
Offerings in this model included stand-out purple and wild plum paints. And the two-door Hardtop, with frameless windows, was revived. With racing-rule changes and public concerns about road safety, the planned GT-HO Phase IV was dropped. As a result, many GTs, in a pretty haphazard arrangement, found themselves receiving some special hand-me-down GT-HO kit such as wheels, suspension, sumps and fuel tanks designed for racing.
Arriving in 1973, the XB had more aggressive styling and was marketed as the "great Australian road car". The model gained global attention for its roles in Mad Max and Mad Max 2. Max's black-on-black version remains an inspiration for similarly monotone special-edition production cars today. Offered, too, were lifestyle vehicles – the Surferoo and Surfsider vans and Overnighter ute.
Power-assisted front disc brakes became standard while the GT had four-wheel discs. It was a time for luxury escapades, with the release in 1973 of both the Landau "personal coupe" and LTD limousine. The XC, which came out in 1976, introduced suspension designed around a recent innovation, radial-ply tyres.
The 1977 Falcon Sundowner, cashing in on the panel-van craze, had sporty features such as bonnet scoops, slotted wheels and driving lights. It was a forerunner of the types of treatments that would much later be applied to another tradie's work car, the dual-cab ute. In 1978, inspired by a 1-2 finish for Falcon Hardtops at the 1977 Bathurst 1000, Ford introduced the limited-edition Cobra, stacked with racing equipment and styling.
It was a tricky period for the Falcon XD and Holden's Commodore, with the Middle East fuel supply/price scare having car makers questioning the ongoing viability of their big, sexy and powerful yet thirsty cars. Ford dropped V8s (until 1991) and even considered terminating the Falcon itself. A considered replacement was smaller front-wheel drive sedan and hatch, codenamed Capricorn, but the brand opted to stay on course. Holden down-sized the Commodore, playing into Falcon's talons when the fuel crisis eased. The 1982 Falcon XE, which had high-tech kit such as Watt's linkage coil-sprung rear suspension and fuel-saving diff ratios, top-seller status was retained by the 1984 XF until 1988, when the Commodore added some bulk.
It's easy to forget that cars such as the XF lacked power steering though it was made standard in 1986, as were disc brakes all round. The XF was the best-selling of all Falcons, with nearly 280,000 sales. The XG discarded dated transmissions, adding a five-speed manual and four-speed auto. In 1993, the first XR6 model was released, featuring a feistier engine, quad headlights, sportier suspension, sports seats and 15-inch alloys. The XH updated the front suspension and introduced rack-and-pinion steering.
Ford put $700 million into the EA, which remained a full-sized family car against a more compact Commodore, aiding its sales success. Wind-tunnel testing was used for the first time on an Australian Falcon. The model did, however, experience build-quality issues.
Just the sedan and wagon styles were produced, with the XF ute and panel van continuing. Spec-level choices were increased to four while three versions of the straight-six engine were available, ranging from 3.2-3.9 litres capacity. A theme of this period was the introduction of technologies we would later take for granted, such as this model's five-speed manual with all-synchro gears and a four-speed auto in the Series II. The EB introduced a V8 engine option for the first time since 1982. Recalled, too, was the GT model as 25th Anniversary limited edition of 265 units.
The S-XR6 and S-XR8 first appeared via the newly established Tickford Vehicle Engineering joint venture. This paved the way for the enduring XR6 and XR8 regular production models. In the EB Series II, the Smartlock security locking system and a rear centre lap-sash seatbelt became standard while anti-lock brakes were offered for the first time.
The ED upgrade included a safety-orientated Futura comeback, adding cruise control and anti-lock brakes. The curvaceous 1994 EF's drivers airbag on all variants was a first for an Australian car. Another innovation was the Smart Bar, a bullbar designed to work in harmony with the airbag system. A clever passenger airbag was optional in the 1995 Series II facelift. In models with bench front seats, the airbag protected both the left and centre front occupants.
The EL had Tickford-influenced suspension and steering changes to correct the EF's handling shortcomings. In quite a breakthrough, all bar the entry variant had anti-lock brakes while the Fairmont Ghia had speed-sensitive steering for easier parking.
Developed under Ford's New Edge global styling, to get away from bland 1990s trends, the AU's lines didn't please Australian eyes. Series II and Series III updates in 2001-02, such as a raised bonnet, were designed to improve styling. The unpopular "waterfall" grille on the entry Forte was scapped and added were bigger bumpers and wheels.
Ford chucked freebies at the Forte, such as air-con, auto and three years servicing to no avail. Firsts for Australian-made cars included variable cam timing, autos with an adaptive mode and steering-wheel gear-shift buttons. The following BA model in 2002 was less facelift and more clean-sheet rethink, costing about $500 million but netting a Wheels gong. It acquired a new Euro-style look outside and a smoother interior. Particularly good was the XR6 Turbo with 240kW/ 450Nm outputs from the revised 4.0-litre six and Garret turbocharger. Sales leapt, at times beating the Commodore.
Formed as a joint venture between Ford and Prodrive in 2002 was Ford Performance Vehicles which produced hotter versions of Fords, especially Falcons. The BA underpinned the debut FPVs, the GT, GT-P and Pursuit Ute, the 290kW V8 range starting at about $60,000. The BA Series II facelift in 2004 introduced a six-speed manual. The 2005 BF debuted a six-speed ZF auto and ESP for selected variants. The BF II 2006 update had turbo models getting power boosts and the entry variant offering a six-speed ZF auto as an option over the four-speeder.
The final-generation Falcon kicked off with the FG, which provided the base XT, sporty XR and luxurious G Series model groups. Though well-engineered, perhaps its understated styling and/or underwhelming marketing had its sales plummeting at a much faster rate than the Commodore's.
Among its credits was becoming the first Australian-made car to achieve a five-star safety rating though, controversially, it didn't provide curtain airbags as standard. Standard features that were a step up included automatic climate control, ESP, emergency brake assist, a driver-fatigue warning and alloy wheels. The XT, XR6 and G6E models came with a 195kW 4.0-litre inline six matched to a slick ZF six-speed auto (2010). Getting the liveliness of the 270kW turbo six were the XR6 Turbo and G6E Turbo.
Due to emissions non-compliance, the XR8 V8 was discontinued in 2010, the same year the station wagon was terminated. The upper-end models came with accoutrements such as dual-zone air, a premium audio system, leather, sat-nav and electric driver's seat. In 2011, Ford introduced a new liquid-injection LPG system for the Falcon, marketed as EcoLPI. It boosted power by 27% and torque by 10% while fuel use dropped by 15%. In a fruitless move to convince buyers they could run a family-size car that was also frugal, Ford in 2012 introduced the energetic 2.0-litre Ecoboost turbo-petrol engine, which used 8.0L/100km compared with the six's 9.9.
The FG MkII facelift in 2011 made worthwhile engineering refinements but aesthetic changes were subtle when, arguably, a visual fanfare was called for to lift flagging sales. While in 2014 FPV wound up, on the brighter side the XR8 returned, giving enthusiasts the chance to pick one up before Falcon departed. It used FPV's GT engine, a 335kW 5.0-litre supercharged V8.
Question: Did you own a Ford Falcon, or lust after one as a kid, or do you lust after an XY GT-HO Phase III now, let us know by leaving a comment.
Tags:
what is smart lock in eb falcon