Inside Ford's secret retro and classic car collection
Tucked away on the outskirts of Ford's sprawling Dagenham factory is a small, slightly ramshackle warehouse.
Inside is a huge array of classic cars representing more than 110 years of Blue Oval history.
ALSO READ: Celebrating 50 years of classic Fords
From Cortinas to Cosworths, we lifted up the dust sheets to photograph the highlights.
Ford Sierra RS Cosworth
The mighty Sierra RS Cosworth celebrated its 30th birthday in 2016. A turbocharged 204hp 2.0-litre 16-valve engine meant 0-60mph in 6.2 seconds and a top speed of 149mph – serious stuff in 1986. This particular car was used for development work at Dunton, Essex, and is still fitted with a rollcage.
Ford Escort RS Cosworth
The 1992 Escort witnessed the second coming of Cosworth. It retained the trademark 'whale tail' wing of its predecessor (albeit as an option), but boasted 225hp and four-wheel drive. The 'Cossie' was also a successful rally car, before being replaced by the Focus WRC in 1999.
Ford Fiesta
The Fiesta is the UK's most popular car. This 1976 model is 43 years old and – as a brief drive around Dagenham revealed – still in great shape. In fact, it was actually driven to Switzerland for a recent Geneva Motor Show. Not bad for 957cc…
Ford Fiesta
The Mk2 Ford Fiesta arrived in 1983, facing rivals such as the Austin Metro and Vauxhall Nova. This is the back-to-basics 1.1 Popular Plus, with a four-speed manual gearbox.
Ford Fiesta XR2
The 1980s were the halcyon days of the hot hatch, and the Fiesta XR2 was one of the biggest sellers. With a bodykit, spotlights and 'pepperpot' alloys, it looked the business. Performance was less spectacular: 0-60mph in 10.2sec and 112mph flat-out.
Ford Model T
The 1908 Ford Model T was the first car to be mass-produced. Doing so brought costs down, putting cars within the reach of 'normal' people. Thus the Model T changed the world more, perhaps, than any other car. Unlike most old cars, it looks remarkably big alongside modern metal.
Ford RS200
Now for something somewhat swifter… The RS200 is one of the fastest and most exclusive Fords ever made. A road-legal rally car, it had a mid-mounted 1.8-litre 250hp turbocharged engine and lightweight fibreglass body panels. Only 200 road cars were made.
Ford RS200
The rallying version of the RS200 was even more extreme. Designed to compete in the notorious Group B, it was boosted to 450hp and could hit 62mph in 3.8 seconds. Sadly, the Group B era was cut short in 1986 after several fatal crashes.
Ford rally cars
Ford has a long history of rallying. Indeed, the rear-wheel-drive Mk1 and Mk2 Escorts and are among the most successful rally cars of all time. The Mk2 RS1800 in the foreground won the 1977 RAC Rally with Björn Waldegard at the wheel.
Ford Anglia 105E
Harry Potter fans will recognise this one. The Anglia 105E was built from 1959 to 1968 and had American-influenced styling, including small tailfins. Its 997cc engine accelerated the Anglia to 60mph in 26.9 seconds – probably not fast enough to take off…
Ford Escort Mexico
Now we're talking. The Escort Mexico was a sporty special edition created to celebrate the Ford's victory in the 1970 London to Mexico rally. This car was also displayed at the Geneva Motor Show, alongside the Sierra Cosworth featured earlier.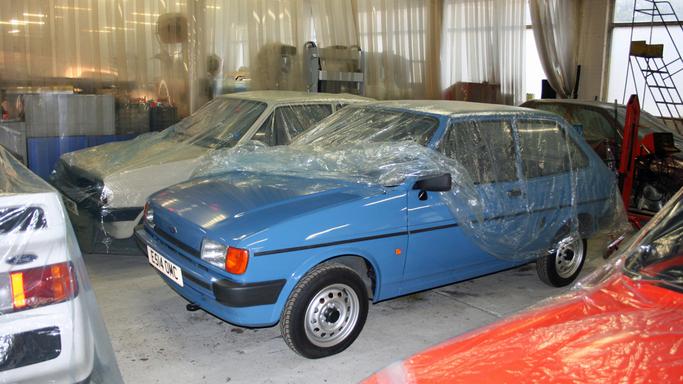 Ford Mondeo
A future classic? Certain members of the Motoring Research team certainly think so. This Mondeo GLX, complete with blue velour trim, would have been a sales rep's dream back in 1994.
Ford Escort
Few people are likely to dream about a Mk5 Escort, but this example is notable for having covered just 800 miles from new. The much-maligned Escort was replaced by the Focus in 1998, a car that turned around Ford's reputation.
Ford Escort XR3i
Here's an Escort we can get excited about. The Mk4 XR3i wasn't particularly special to drive, or even very quick (0-62mph in 9.1sec). But with its red go-faster stripes and racy graphics, it sums up the 1980s for us. Everyone loves a bit of nostalgia, right?
Ford Capri
Another car very evocative of its era is the Capri. This 1977 example is one of the later Mk2 cars, and boasts a herculean 72hp from its 1.6-litre engine. Still, it could be worse: the 1.3-litre Capri produced just 55hp…
Ford Capri 280
With a 2.8-litre V6 under its lengthy bonnet, the 160hp Capri 280 had more than twice as much power as the lowly 1.6. This Brooklands Green beauty was the last hurrah before Ford discontinued the Capri for good – making it a highly sought-after special edition.
Ford Mustang
The Capri was effectively the European version of this car: the iconic Ford Mustang.
Ford Mustang
And here's an example of the more recent Mustang – the full-fat 5.0-litre V8 version, no less. With 412 ponies to its name, the V8 'Stang will hit 62mph in 4.8 seconds. Or you could just use the Line Lock function to create lots of tyre smoke. Better to burnout than fade away…
Ford Transits
Now for something altogether more practical. The Ford Transit van is approaching its 55th anniversary, and it remains the UK's most popular commercial vehicle. The record for the highest number of people ever squeezed into a Transit is… 48.
Ford Transit
This is the oldest surviving roadworthy Ford Transit. It has a 64hp V4 engine, plus leaf-spring suspension front and rear. It would have cost £542 when new in 1965.
Ford Transit Connect X-Press
This one-off Transit is a little racier. Its running gear comes from a Mk1 Focus RS, which means 215hp – amplified by a Bosal sports exhaust. The X-Press also has lower suspension, a stiffer chassis and hip-hugging Recaro seats. We bet it's a riot to drive.
Ford Transit Supervan 3
Ford built three Transit Supervans. This third version arrived in 1995, complete with a 650hp 3.5-litre engine from a Formula 1 car. It has since been fitted with a 2.9-litre Cosworth engine, which is being tinkered with here.
Ford Cortina
Here's another one that takes us back. There was once a Mk5 Cortina on every suburban street in Britain, but they are all-but extinct now. This 1982 Cortina Crusader has a 91hp 1.6-litre petrol engine, Strato Silver paint and grey velour trim.
Ford Cortina
This is an earlier Mk3 Cortina from 1974. Its 1.3-litre Kent engine would have provided steady progress at best. However, we love the 'Coke-bottle' styling and very-70s lurid green paint.
Ford Granada
Above the Cortina sat Ford's flagship: the spacious and luxurious Granada. Three body styles were available: four-door saloon, two-door coupe and the estate seen here. Few cars say 'East End gangster' like an old Granny…
Ford Granada
The squarer Mk2 Granada was launched in 1977 and boasted innovations such as fuel injection and air conditioning. A prime candidate for a future Motoring Research Retro Road Test?
Ford Escort RS Cosworth
As if the Escort Cosworth wasn't in-yer-face enough, how about one in bright yellow? The bloodline between the RS Cosworth variants of the Escort and Focus is clear to see.
Ford Focus RS500
Ford has a knack for producing ultra-desirable special editions, and the matte-black Mk2 Focus RS500 is just such a car. Its 2.5-litre turbocharged engine is cranked up to 350hp, giving 0-62mph in 5.4 seconds and a top speed of 165mph. Only 500 were made.
The meeting room
The meeting room at Ford's Heritage Centre is just as fascinating as the cars. It looks like it hasn't changed since about 1965. The bookshelves are crammed with dusty tomes about Ford history.
Model magic
There are some fantastic models on display, too. In the days before computer-aided design, scale models like the Mk1 Escort here were used to show managers and potential customers how a new car would look.
Ford Fiesta
Some cars in the Ford Heritage collection get more love than others, and this 1996 Mk4 Fiesta clearly hasn't moved for a while. Top marks for spotting the near-identical Mazda 121 version on the road.
Ford Fiesta XR2i
Another unloved Fiesta is the 1989 Mk3 XR2i. This lukewarm hatch gained fuel injection (hence the 'i' suffix) but lost the cheeky, fun-to-drive character of the Mk2 XR2. Not one of the finest fast Fords.
Ford Fiesta
Few things say '1970s' like a beige Mk1 Fiesta with brown vinyl upholstery. Although this lovely example actually dates from 1981.
Formula Ford
Tucked away behind the fibreglass front of the Supervan 3 (it's having work done, remember?) is a Formula Ford racing car. The series has served as a springboard for many Formula 1 drivers since the 1960s.
Rolling chassis
The Ford Heritage Centre isn't a museum, and many of the cars are works-in-progress. Three guesses as to what this rolling chassis belongs to. We know it's a Ford, but beyond that we're stumped…
Ford Model A
As the car that replaced the Model T, the 1927 Model A had a tough act to follow. UK versions had a 2.0-litre 28hp engine and were available in a huge range of body styles – from roadster to panel van. Note the rear-hinged 'suicide' doors.
Ford Model Y
The Model A gave way to the Model Y in 1931. A compact car well suited to European roads, the Y had a 933cc engine and a top speed of 60mph. It remained in production until 1937.
Ford Zodiac
With its two-tone paint and plentiful chrome, the Mk2 Ford Zodiac was clearly influenced by more glamorous cars from across the pond. The Zodiac was the upmarket version of the contemporary Ford Zephyr.
Ford Transit
Finished in what looks like period 'British Telecom yellow', this Transit will look oddly familiar to anyone who remembers the 1980s. Spot the promotional World Rally Transit from 2001 in the background.
Ford Thames 307E
The Ford Thames was essentially a commercial version of the Anglia. In fact, it was renamed the Anglia van after 1965. The chrome grille marks this out as being the more capable 7cwt version of the 307E – others had a basic, painted metal grille.
Ford Quadricycle
This Ford Quadricycle is actually a replica, made by apprentices in July 1963 for the Henry Ford centenary. It's a faithful reproduction of the first vehicle Ford built in 1896.
Ford Fiesta XR2
We couldn't resist another XR2. We borrowed this car for one of our Retro Road Tests – and didn't want to give it back. It's crude and almost comically basic by modern standards, but fabulous fun. And it got a hero's welcome on the streets of Dagenham.
Ford Fiesta ST
Can't afford the brilliant new Fiesta ST? Don't worry, neither can we. The Mk5 ST, however, is a cheaper alternative that is ageing well. Prices are starting to rise, so grab one while you can.
More models
How cool is this Mk4 Zodiac model? The real thing was powered by a 3.0-litre V6, and a very stylish way to travel in 1966.
Number crunchers
Before microchips, mechanical adding machines were used to calculate Ford's profit and loss. These perfectly-preserved examples are in the Heritage Centre meeting room.
Ford Cortina
The Mk2 Cortina was launched in 1966, and in 1967 it became Britain's best selling car. This dusty 1600 Super still looks great.
Ford Cortina
We even love the Cortina's chrome badges. From an era before 'metal-effect' plastic…
Ford Model T
As our gallery draws to a close, let's go back to the beginning with the Ford Model T. Looks like this Tin Lizzy has a slight oil leak…
A treasure trove of Ford history
Sadly, the Ford Heritage Collection isn't open to the public, but we hope you enjoyed this peek beneath the dust sheets.
Tags:
where is smart lock located on 92 fairlane