New Ford Everest nearing completion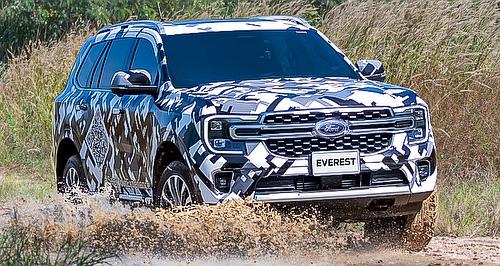 FORD will soon take the wraps off its next-gen Everest. The large SUV, based on the new Ranger, will be revealed early in 2022 and should arrive in Australia a few months thereafter.
Ford has released images of (what will be) the third-generation Everest as it enters the final testing phase of Ford's global testing program. The finer details of the new model's exterior execution, which was penned by Lee Imrie, exterior designer at Ford Australia, remains hidden under a cloak of digitised camouflage that incorporates "clever reflective strips".
What is evident, however, is that the new Everest shares the new Ranger's prominent new grille (with a strikethrough crossbar) and C-clamp headlight treatment, its wheel arches seem more pronounced, the rear three-quarter lights appear larger and, lastly, the tailgate features wraparound LED tail-light clusters (with a boomerang-shaped lighting signature) which seem to be connected by what is either a light bar or a cosmetic trim strip.
"We created an artistic pattern that hints at adventure," Mr Imrie said.
"The camouflage consists of a series of rectangles tilted on a 45-degree angle that were inspired by mountain peaks.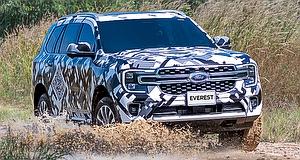 "We made sure the vehicle's design remains hidden by designing the camouflage pieces in isolation. This means when it's applied to the vehicle, it's a completely random pattern," he added.
Although the outgoing Everest was the third best-selling large SUV under $70k in Australia in November 2019 (according to VFACTS), it has traditionally been outsold by the (also new) Isuzu MU-X, although in terms of year-to-date sales numbers it was at least ahead of its fellow ute-based rivals – the Mitsubishi Pajero Sport, LDV D90 and Toyota Fortuner.
The new model's flagship is likely to be powered by the Ranger's new 3.0-litre V6 turbo-diesel engine, which produces peak outputs of about 186kW/597Nm, while more affordable derivatives will feature Ford's YN2S-series 157kW/500Nm twin-turbo 2.0-litre four-cylinder diesel.
All engines will be paired with a 10-speed automatic transmission.
It's feasible that the independent front- and solid rear-axle (with Watt's linkage) suspension will be retained; AWD versions will again offer Terrain Management off-road drive modes.
Inside, the new Everest's cabin will again feature a roomy seven-seat configuration, but its presentation will be more upmarket, thanks to the fitment of a fully digital instrument panel, and a 10.1- or 12.0-inch SYNC4-equipped touchscreen infotainment system (which operates many of the functions that were selectable via hard buttons the on outgoing model's fascia).
The setup also incorporates mobile internet connectivity and a new off-road display mode that provides driveline, steering angle, pitch and roll angles and other info. A 360-degree camera and the ability to start, check various functions of-, as well as lock/unlock the vehicle via the FordPass Connect mobile app will probably be carried over from the new Ranger.
Ford Australia plans to launch the new Ranger towards the middle of 2022, by which point the new Everest would have been fully revealed. It's likely the seven-seater will arrive here soon after its ute sibling; specification and price info will be revealed closer to the launch date.
The Road to Recovery podcast series
Tags:
where is smart lock located in fairlane