realme UI 2.0 update rolling out
realme has announced that it has begun rolling out realme UI 2.0 update that is based on Android 11 to 5 devices, the realme 7 Pro, realme 7 5G, X3 SuperZoom, realme 6 and realme C12. The update, which brings with it improvements to personalisation, security and privacy, and system and launcher settings to name a few.
The update also brings with it the ability to share personal hotspots with others via a QR code, meaning your realme device just became easier to share your data and become your own Wi-Fi hotspot network with friends and family.
Personalisation of your device has become much easier to do with the ability for realme users to tweak the interface to how they would like it and can even create their own wallpapers by selecting colours from images. Users can also easily select time periods to switch the device to Do Not Disturb which allows people to 'switch off' from digital distraction.
The rollout will begin in the next few weeks to months, with the update rolling out now for realme 7 5G and X3 SuperZoom users. While realme 7 Pro users can expect to see the update in the next month, with realme 6 and realme C21 devices likely to have access to the upgrade later in Q3 2021. Other devices, such as the realme C3 and C21 don't yet have a confirmed date for the rollout of the update.
The full list of features and improvement are as follows:
Personalisations
High Efficiency
System
Launcher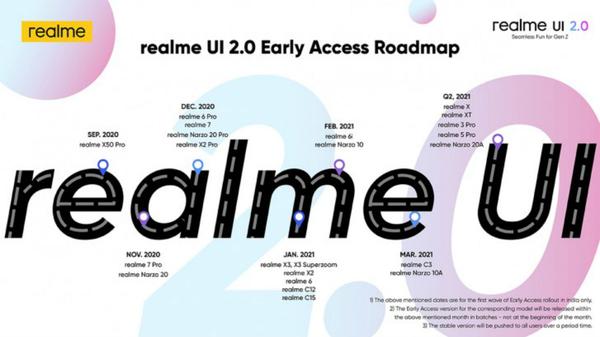 Security and Privacy
Games
Communications
Photos
HeyTap Cloud
Camera
Accessibility
Amplify faint sounds and soften loud sounds when wearing earphones via "Sound Amplifier."
When speaking about the new user interface, realme Australia Managing Director, Andy Yang stated:
As a business our mission is to provide the best pound for pound consumer technology experience on the market. Not only does this mean great hardware, but great software too. realme UI 2.0 is the next phase of that journey, bringing consumers new and exciting features optimised specifically for the realme device they are using.
If you own a realme 7 5G or X3 SuperZoom device, you can head over to Settings > Software updates to see if the update is ready for you to download and try out the new features. If you have already installed the update, let us know your thoughts or suggestions for what else you'd like to see in any future possible updates in the comments below.
Tags:
how to reset optus x smart screen lock