The Roar The Roar REACTION: Perfect prep for England? 'Test match intensity' sees Brumbies pip Reds in classic as prop stakes Wallabies claim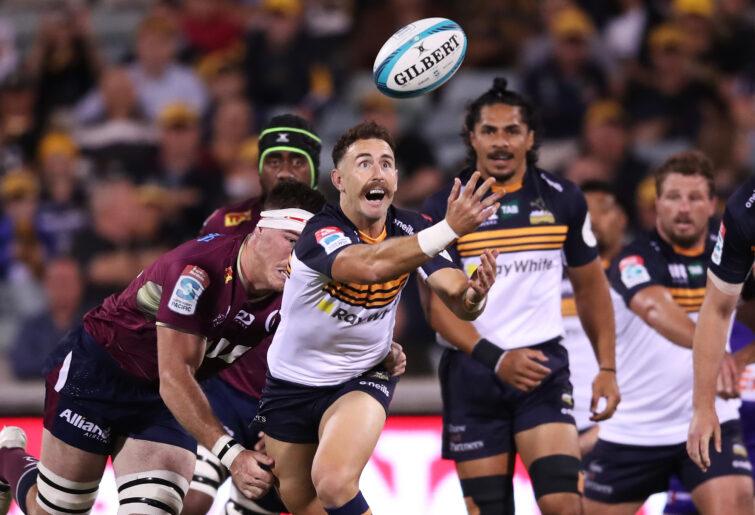 The Brumbies and the Reds NEVER disappoint.
The fiercest rivalry in Australian rugby was on full display on another exceptional night filled with drama aplenty, the Brumbies withstanding an almighty late charge from the Reds – somehow – to win a classic 16-12.
FacebookTwitterWhatsappRedditEmail Share
Despite scoring only one try to the visitors' two, three penalty goals to none was enough for the Brumbies to gain a decisive advantage.
Rugby
Errors aplenty from both sides were a by-product of the intensity, which occasionally spilled over as both sides conceded a hefty amount of penalties, and plenty of spite to boot; Taniela Tupou waving off Darcy Swain after a yellow card the prime example.
Advertisement
"Obviously it's well documented in terms of the rivalry between the two teams, but also a lot of niggle," former Wallaby Drew Mitchell said on Stan Sport after the match.
"Probably a little bit more than we've seen in recent times, just how much one another were willing to try and get under one another's skin, and also how much success they were have in doing so."
Former great Morgan Turinui agreed, saying the match was a 'step up' from other Super Rugby Pacific matches.
Advertisement
"That's closer to Test match intensity," Turinui said.
"Execution not quite there because the teams aren't used to it. Can't wait for that next one [between the Brumbies and Reds in two weeks' time] already."
According to Turinui, the match was perfect preparation for the Wallabies' mid-year Tests against England, with a number of squad hopefuls on display.
"It's a similar game that the Wallabies will need to play against England in that three-Test series… can they get up to that level of physicality and intensity that Eddie Jones' men will bring?" he said.
Advertisement
Nic White of the Brumbies juggles the ball. (Photo by Matt King/Getty Images)
One of those banging down the door is Brumbies lock Nick Frost, who did his chances of a shock call-up this winter no harm at all with an excellent match.
According to Mitchell, it's the things Frost does off the ball, as much as his work from the set piece, that makes him an ideal candidate for further honours.
"It's the work he does off the ball," Mitchell said.
Advertisement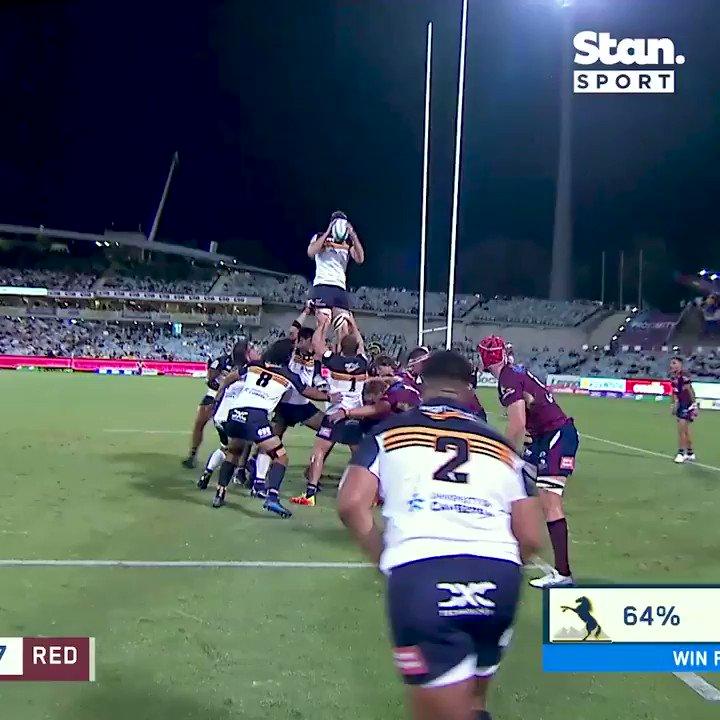 "Obviously, set piece is his core role, his lineout work, his scrum work, but also the work that he's doing off the ball – getting himself in the defensive line on kick-chase, getting himself around the corner to be present in a defensive line.
"Those little things that we won't see on highlight reels, but he's doing really well."
"They're the things as a coach you look for, those things off the ball," fellow former Wallaby Nathan Grey added.
"Getting yourself in position early. He played 80 minutes – a big guy, he's got great speed, he's got a really good turn of speed, and obviously a big engine. And very effective in the lineout.
Advertisement
"He's putting himself together as a real full package and a really quality player."
Turinui agreed, saying selectors would have been 'very impressed' by the 22-year old's performance.
"When we talk about physicality, intensity, performance, he was right at the forefront," Turinui said.
"Yes, everything right now until July is shadowed in some way by Wallabies selectors, and they would have been very impressed by another guy who sticks his name up to go into that selection mix."
Frost himself was keen to share the glory around in an interview with Stan Sport after the Brumbies' win, but maintained the rivalry was 'good for Australian rugby'.
"It was pretty physical out there," Frost said.
"These rivalries, they're good for us, they're good for Australian rugby.
"Obviously we've gone pretty close to the death there, for our past few games, but it's good to come out on top."
Losing captain Fraser McReight was dejected after the game, describing his emotions as 'pretty dire' after such a hard-fought match.
"It's quite a bitter feeling right now," he said.
"We knew it was going to be a battle for the whole 80 minutes, and so did the Brums.
"It was a challenging game. I don't know too much about the Test 40, but the rivalry we have with the Brums is definitely up there in terms of the highest standard of rugby. It's fast, it's competitive and it's not just for 60 minutes, it's for the whole 80.
Sports opinion delivered daily
"I'm expecting in two weeks, they'll recover and they'll review, we'll do the same, and it's going to be another belting in for 80 minutes. I can't wait."
Two weeks that can't go by fast enough.
Tags:
what is the best au smart lock