6 great options if you're always running out of power outlets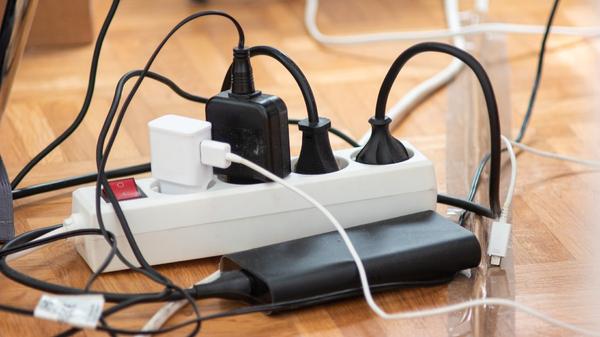 It can be challenging to find the perfect outlet that lets you relax and charge your gadgets simultaneously.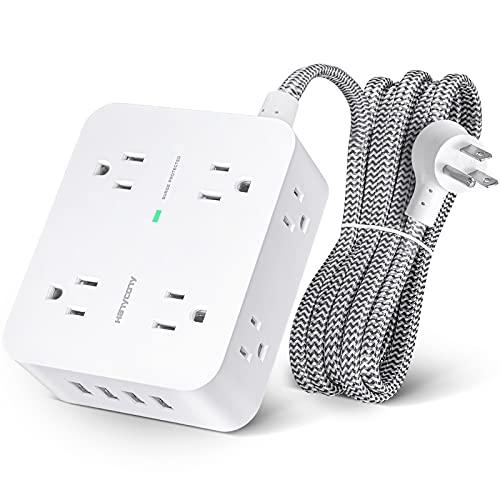 If you notice everyone fighting for the best power outlet in your home, or if you can't connect all your work-related tech at the office, it's time to look for better power options.
Here's our list of six excellent products that can help you charge multiple devices from one power outlet.
1. Keep the kids happy
USB Wall Charger, Surge Protector
This wall charger and surge protector includes a night light. Use it in the kid's bedroom or place it in a dark hallway. Set it up behind the couch so you can always find the plug, or set it up in the kitchen so you can use several gadgets at once.
Promising review:
"So happy that I bought this beautiful wall charger. It looks much more expensive that what I have paid.
The 6 outlets are so nicely positioned that I can use all of them at the same time.
2 USB outputs are ideal for charging our phones. Highly recommend!"Buy Now$19.97 onAmazon.com
2. Protect your devices
Surge Protector Power Strip
When you want a surge protector and power strip in one, try this Widely Outlet that features five feet of braided extension cord, a flat plug, four USB charging ports and eight power outlets. The durability of this charger is perfect for anyone who has children, pets or likes to travel.
Promising review:
"Wondering how to protect your valuables from storms plus have multiple USB ports? Buy this cord length — [it] is
perfect, great for traveling and gives off great charging power
. I have multiple ones and less issues now with charging and trying to find enough plugs for multiple devices."Buy Now$19.99 onAmazon.com
3. Perfect when traveling
USB Outlet Extender Surge Protector
The compact design of this outlet extender and surge protector is great for those hard-to-reach places in your home. It's also highly portable. That means you can use it during vacation, when waiting for a flight, at the doctor's office or when waiting to be called for jury duty and more. It features six outlets, two USB ports and a USB-C port.
Promising review:
"I have an outlet that goes sideways.
I searched local stores and finally discovered this amazing little outlet adapter that no house should be without.
AND it has two USB receptacles as well. Fantastic!"Buy Now$15.99 onAmazon.com
4. Install at the office
3 Outlet Desk Clamp Power Strip
This outlet is explicitly made for desks or thin tables. It comes with a clamp so that it can be firmly set on the edge of slim furniture. This power strip comes with three power outlets and two USB ports. It can be gently clamped to your desk with a simple screw and knob. It angles up so your cords don't become bent or worn, and it's made of fireproof material for added safety.
Promising review:
"Works great. Have my 3 monitors plugged into it.
Have it plugged into a smart plug. And when I'm ready to start work for the day, they all turn on with my lights
through automation.Buy Now$28.99 onAmazon.com
5. Compact but powerful
USB Surge Protector 5 Outlet Extender
The Addtam wall charger and surge protector is a great safety outlet extender. It features short-circuit protection, is grounded, has over-temperature control, over-current protection, fire resistance, internal safety shutters and over-voltage protection. Plug devices into one of its five AC outlets, three USB-A ports or USB-C port.
Promising review:
"Use this for the outlet by my dining room table. which sometimes doubles as a desk in the time of Rona.
I can have multiple devices plugged in plus a small reduction in clutter without charging bricks
. If you have no need for extension, this is also a much cleaner solution than a power strip.Buy Now$18.99 onAmazon.com
6. Use this Smart power strip
Kasa Smart Plug Power Strip
Smart homes with Alexa devices would do well with this Kasa Smart Wi-Fi Power Strip. It works with Alexa, features six individually controlled smart outlets and offers three USB ports. The main plug is angled to save space, there is a built-in surge protector, and there are status lights to see whether an individual outlet is having trouble.
Promising review:
"It's so great I went and got a 2nd.
Love being able to see the KWH usage of everything plugged in
and the ease of fully securing power to things when I'm leaving the house for awhile. The timer function is also very useful and easy to use.Buy Now$49.98 onAmazon.comBy clicking our links, you're supporting our research. As an Amazon Associate, we earn a small commission from qualifying purchases. Recommendations are not part of any business incentives.
Tags:
can you plug a smart plug into an extension cord