Bagsmart Travel Organizer review: Meet the $16 tech case that saved my vacation
Yahoo Lifestyle Canada is committed to finding you the best products at the best prices. We may receive a share from purchases made via links on this page. Pricing and availability are subject to change.
After two long years spent mostly at home, the time had finally come to pack up for a much-needed vacation. Admittedly, I was a little nervous about returning to travelling, and thus started planning with a detailed packing list weeks in advance.
Once I made my list and saw just how many cables, plugs and outlets I'd be bringing, I decided that a dedicated tech organizer would be a smart investment. My search online lead me to one affordable option from Amazon Canada that had plenty of compartments and storage space for all kinds of devices.
And the best part? The Bagsmart Travel Universal Cable Bag starts at just $16.
Bagsmart Travel Universal Cable Bag
$16$18 at Amazon
The details
While it may seem like just another item to add to your collection of travel gear, this organizer actually makes it super easy to keep all of your tech neatly in one place. It has room to hold several charging cables, power banks and adapters, as well as smaller items like SD or SIM cards.
It features a mix of zippered pockets, mesh compartments, and elastic loops to ensure that none of your cords end up tangled on the road. It also zips completely closed and is about the same size as a small book, even when fully packed.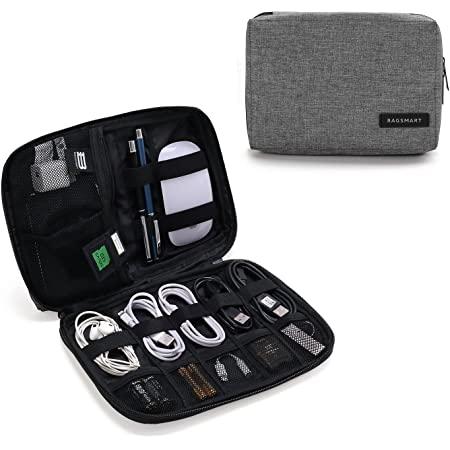 First impressions
I used to be guilty of throwing my chargers and headphones into a small backpack pocket and calling it a day, but since I'd be switching hotels multiple times I knew that approach wasn't going to cut it for my nearly two-week trip. I also wanted to make sure that I wasn't forgetting anything between hotels, which helped influence my decision to finally opt for a tech organizer.
When my Bagsmart organizer first arrived, I was a little skeptical that it would actually fit everything that I had planned to pack, as my list included: multiple Apple charging cords and wall adapters for my phone, laptop, and watch, a mouse, wired earbuds, and cables for my Kobo e-reader.
Once fully packed, I was pleasantly surprised by how much the little pouch could actually hold. The bag had room for everything on my list (and more) and was still able to zip comfortably closed.
It fit easily into my carryon bag as well, along with my toiletries case and laptop case for a neat and organized travel experience.
What others are saying
One of the main reasons that I opted for the Bagsmart organizer over other similar options was its vast array of positive customer reviews. It's earned a 4.6-star rating from nearly 5,000 Amazon shoppers, who have praised its "durable construction" and "practical size."
One shopper found that it's "perfect for keeping all electronic cords together" while another added that it manages to stay "very compact and organized."
Reviewers have called this bag "a must have for every family," since it eliminates the need to search frantically in order to find the right cables and chargers.
Others have found that this bag is good for the"average packer with average cord needs," but may not be large enough for those who travel with extensive photography equipment or other tech devices.
Personally, I thought there was more than enough space for my everyday chargers and cables, but if you are looking for some extra room for storage you can also shop the brand's larger 2-Layer Electronic Organizer for $30.
The verdict
It might sound silly, but I have to say that having the Bagsmart Travel Universal Cable Bag while on my first vacation in more than two years definitely brought me some peace of mind. It was a convenient place to store all of my essential tech accessories, and since they were all visible at a glance, it was easy to make sure that I wasn't forgetting anything.
At just $16, this travel organizer is also a super affordable choice. While I can't speak to its longevity just yet, I can definitely say that this Bagsmart tech organizer is one item that I'll be permanently adding to all my future packing lists.
The reviews quoted above reflect the most recent versions at the time of publication.
Let us know what you think by commenting below and tweeting @YahooStyleCA! Follow us onTwitter andInstagram andsign up for our newsletter.
Tags:
are smart plugs a security risk