Peugeot 308 wins Women's Car of the Year award in a tight contest against the industry's best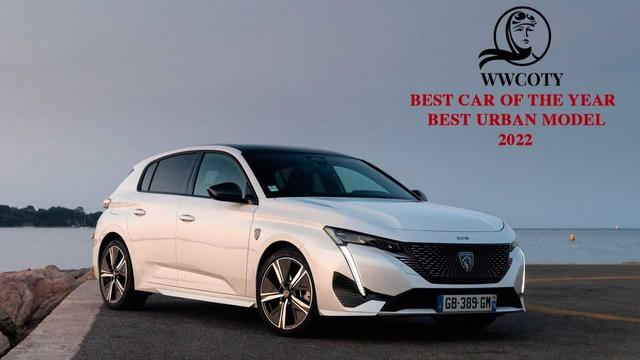 More than 50 women motoring journalists from 40 countries across five continents have voted the Peugeot 308 as the World's Best Car for 2022.
It's the icing on the cake from the Women's World Car of the Year, an annual competition that this year tested and evaluated 65 vehicles, narrowing down six category winners that would vie for the top award, which was announced on March 8 — International Women's Day.
The Peugeot 308, which was nominated Best Urban Car in the first round, was up against the Kia Sportage (Best Family SUV), BMW iX (Best Large SUV), Ford Mach-E (Best Family Car), Audi e-Tron GT (Best Performance Car) and Jeep Wrangler 4xe (Best 4 x 4).
"This year's voting was closer than ever," , executive president of WWCOTY Marta Garcia, said.
"The jurors had their work cut out for them because each of the candidates represented the best of their segment."
Notably, the award criteria is not about choosing a "woman's car".
Aspects such as safety, quality, purchase price, design, intuitive driving and ecological footprint — things relevant to all drivers — are considered in the voting.
Comments highlighted the 308 had an "extraordinary and quiet" turbo engine, a short turning circle, which made it an ideal city car that was easy to drive in narrow streets, and came in a range of powertrains, including an EV, due in 2023.
For various panel members it stood out for its performance, comfort, handling, reliability and affordability, "without being boring".
"(It) offers just about everything you could want in a car," said New Zealand broadcaster Sandy Myhre, who established the award in 2009 and currently serves as honorary president.
The Peugeot 308 was discontinued in Australia in 2021 because of the semi-conductor shortage ahead of the new model, initially due in the first quarter of 2022, but now expected in the second half.
What we know from the global unveiling in March 2021 is that it uses Peugeot's EV-compatible third-generation EMP2 multi-energy platform and comes in several powertrains, all complying with the latest Euro6 emissions standards (Australia is still on Euro5).
In the line-up, three 1.2-litre three-cylinder petrol engines, two 1.5-litre four-cylinder diesels, plus two rechargeable hybrids with up to 60km of pure electric range, depending on the variant.
The Peugeot 308 was discontinued in Australia in 2021 because of the semi-conductor shortage ahead of the new model, initially due in the first quarter of 2022, but now expected in the second half.
At this stage, we are still waiting to find out what engines will be available here, but a 1.2-litre petrol has previously been offered.
Locally, it will take on the Toyota Corolla, Kia Cerato, Mazda 3 and Hyundai i30 in the small car segment under $40,000.
In 2020, the 308 had 218 sales nationally — and eight in WA — so it's still a dark horse here and the big question is whether the award means it can hit the ground running against the big names.
"Locally, we are eagerly anticipating the Australian arrival of the Peugeot 308 hatch and SW (station wagon) variants later this year and look forward to sharing further details soon," managing director of Peugeot Australia, Kate Gillis said, describing the win as a "remarkable achievement".
An updated design means the new 308 is longer and lower than its predecessor, with more room for second-row passengers and a sleeker silhouette.
Boot capacity is 412 litres (1323l with the second row down) and there's an additional 28 litres of compartmentalised storage space under the carpet.
A lot of work has been put into aerodynamic efficiency, including the design of the rear and the wheels, plus the "vanishing" line at the top of the roof, which has a long spoiler, all in the interests of helping to the reduce fuel consumption and limit CO emissions.
The turning circle is 10.5m, which makes it ideal for manoeuvring in tight spots, and the new Peugeot logo — a coat of arms with a lion's head — masks the radar for driving aids in the centre of the grille.
Completing the look, slim front LED headlamps sweep into hook-shaped daytime running lights on the front bumper, while at the rear, LED tail lights display three "claws" for a brand-specific look.
By all accounts, comfort and ergonomics is top class, as is driver and safety tech, which includes a digital instrument panel, wireless smartphone mirroring, USB-C sockets, "OK Peugeot" voice command, a 10-inch central touchscreen and the latest cruise, blind spot, parking and lane-assist functions with multiple cameras.
There's a 10-speaker French Focal sound system, a choice of high-end trim, including embossed leather and, depending on the variant, the front seats can be equipped with 10-way electric adjustments and a pneumatic massage system with several different programs
Hyundai Ioniq 5 named UK Car of the Year 2022
Already 2022 German Car of the Year, the Hyundai Ioniq 5 was named UK Car of the Year 2022 on March 8, adding another award to a growing list since its launch in 2021.
It was a popular choice for a panel of 29 judges from various publications covering the British automotive industry, including The Sunday Times, The Daily Express, The Telegraph, The Independent, Top Gear and Auto Express, with John Challen, editor and managing director of the UK Car of the Year Awards, saying the Ioniq5 "feels like the future of motoring, only it's here today."
The Ioniq5 has a range of 451km and can recharge from 10 per cent to 80 per cent in just 18 minutes at a DC charging station.
The Hyundai i20 N hot hatch was also recognised, beating established sports cars to get the Best Performance Car title.
Judges were impressed with its take-off to do 0-100km/h in 6.7 seconds and efficient 150kW 1.6 T-GDi petrol, describing it as "quite the performer at an affordable price."
Peugeot PHEV 3008 and 508 in Australia
Peugeot has taken its first steps towards electrification in Australia with plug-in hybrid variants of the 3008 GT Sport AWD and the 508 GT Fastback, which are now available at dealerships, despite the PHEV segment having one of the lowest uptakes in Australia when it comes to fuel type.
In 2021, 3372 cars sold were PHEVs (up from 1691 in 2020), compared with 5149 EVs and 70,466 hybrids — all lagging behind petrol (580,495) and diesel (346,990).
Peugeot Australia hopes to tip the balance with these two new models based on the 3008 SUV and 508 Fastback which it says have been popular among customers looking for "French flair and uncompromising style".
"The arrival of the plug-in hybrid variants of these models is only set to bolster and broaden their appeal within a new segment of the market," Peugeot Australia manager director Kate Gillis said.
"Peugeot has made a global commitment to have an electrified variant across the entire model line-up by 2025, so the local arrival of the 3008 and 508 plug-in hybrid electric vehicles is a pioneering moment for the brand in Australia as we set out on our future of electrification."
Priced at $79,990, plus on-road and dealer-delivery costs, the Peugeot 3008 GT Sport PHEV AWD has dual electric motors and a 13.2kWh battery with up to 60km of electric driving range. Combined power output is 222kW and 520Nm torque.
The Peugeot 508 GT Fastback PHEV is $76,990 RRP with an 81kW electric motor and 11.8kWh battery offering up to 55km of electric driving range. Combined power output is 165kW and 360Nm torque.
Batteries are located near rear seats and come with an eight-year or 160,000KM warranty, whichever is sooner (each model also comes with Peugeot's five-year unlimited kilometre warranty, five years roadside assist and five years/100,000km "price promise" servicing totalling $3108 for the 3008 and $2638 for the 508).
Each model also has Peugeot's 1.6 PureTech internal combustion engine, plus a new eight-speed automatic gearbox to incorporate the electric drive train — and Peugeot Australia says it's possible to reach up to 135 km/h in all-electric mode before the engine kicks in.
Both use smart technology to help the driver get the most from the electrified powertrain, including e-save mode for an all-electric ride, plus regenerative braking that recovers energy and allows partial charging of the high-voltage battery to increase range.
Key features
Key style features of the 3008 GT Sport PHEV AWD include 19-inch onyx black diamond cut alloy wheels, full-grain Nappa leather seats, which are heated at the front and a dual-pane electric sunroof.
Inside, there's a digital instrument panel and a 10-inch high-definition central touchscreen, plus a suite or driver assistance and safety tech, including a 360-degree front and rear cameras, speed sign recognition, a hands-free tailgate, adaptive cruise control with stop-and-go (including automatic restart), lane positioning assist, autonomous emergency braking with low-light pedestrian and cyclist detection, full smartphone connectivity and a premium audio system.
The 508 GT Fastback PHEV has a low-slung body and features 18-inch two-tone diamond-cut alloy wheels, a leather steering wheel and leather seats.
Driver and safety tech includes a 12.3-inch head-up digital instrument panel, a 10-inch central touchscreen, an emergency braking system with camera and radar, smartphone connectivity, adaptive cruise control with stop function, a 180-degree rear-view camera, lane departure warning, parallel and perpendicular park assist, speed sign recognition and a hands-free tailgate.
Tags:
are smart plugs ok to use in australia