Review: Bauhn Delivers Pricing Ultimatum With 48-Inch UHD TV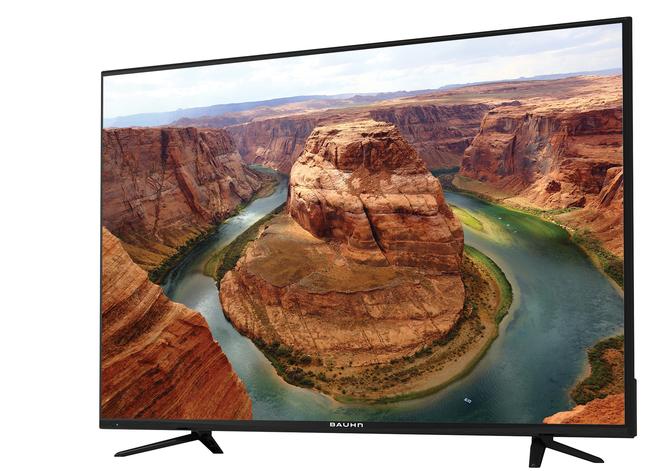 After cruising into the market and winning over the money of thousands of customers only a few days ago with their new 65-inch 4K Ultra HD LCD LED TV, Bauhn have returned to ALDI with their new 48-inch UHD LCD LED TV.
As is often the case of Bauhn-produced displays: if you're looking to make the significant jump to 4K for a significantly lower price than you'd find with other brands, this is a one small but powerful display that's worth a look. It's by no means the best UHD TV you can buy, but it's probably one of the best you can find for $499. As always, the heart of the Bauhn proposition boils down to value. Clean and simple.
Equally simple is the setup for the TV. Like it's 65-inch cousin, there's not a whole lot to it. Just attach the legs, then plug and play. The legs and frame don't quite the same slickness as the bigger model but given the $400 difference between the two, it's not exactly a major omission.
The 48-inch TV hasn't got much smarts to speak of but given the common issues Smart TVs have when it comes to interfacing and usability, this also isn't too major of a loss. Most will probably just wire up their games console or Netflix-box of choice and go anyway. Assuming you have an internet connection up to the task, Netflix is churning out 4K content at a rate that puts its competition to shame. On the other side of things: If you find yourself tuning into more traditional broadcasts, it's even capable of recording via PVR straight onto an external hard drive for later viewing.
While it might lack the brains of last year's offerings, Bauhn's latest effort doesn't suffer any shortcomings when it comes to performance. The TV comes certified to deliver 4K quality video. Packing in support for HDMI 2.0, a 60Hz native refresh rate, a built-in HD-tuner and a 4700:1 contrast ratio, it's got the goods and doesn't try to tack on anything that could weigh the TV down when it comes to price-point. The deal is further sweetened by the built-in speakers and one-year warranty that comes with the TV, which promises to add even more value. While it lacks the HDR color depth you'll get out of a $10K TV, it comes surprisingly close for less than a tenth of the asking price.
Conclusion
If you're looking for a stepping stone to the world of Ultra HD 4K home entertainment, Bauhn's new 48-inch LCD LED TV is the best you'll find at a sub-$500 price. There are plenty of other options out there if you're looking for bells, whistles and incremental additions like HDR. However, if you're wanting to take that first step. There are very few options out there that offer as much value as Bauhn.
Bauhn's 48-inch Ultra 4K LCD LED TV will be available through ALDI from the 6th of April for an RRP of $499.
Tags:
are bauhn smart plugs compatible with google assistant