Samsung's SmartThings Just Got Smarter, with New App and Ecosystem Updates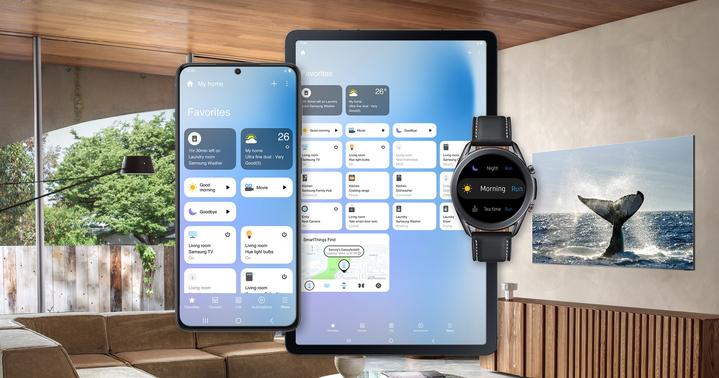 SmartThings now has over 120m users world-wide, and is compatible with the world's leading smart home brands.
Samsung Electronics Co., Ltd highlights significant new updates to the SmartThings[1] platform for 2020, combining new app features and ecosystem partnerships to bring more simplicity, control and fun to the growing Connected Living experience.
Last year, SmartThings experienced a 61% growth in registered users, bringing total users to over 120 million worldwide. With an ever-expanding ecosystem, including most Samsung products, SmartThings now allows users to bring more devices together than ever before, maximising the value of their smart experience.
Following 12 months of frequent updates and developments, the SmartThings app has further enhanced the user experience through its three key strengths:
When at home…
SmartThings takes the stress out of controlling the home. Thanks to the latest software updates, users can sit back, relax and let the app do the hard work.
When on the go…
The new software updates are just as important for controlling and monitoring the home when users are on the go, as it is when they're at home.
"We are delighted to provide such an extensive update to our SmartThings app. The rise in registered users over the last 12 months has been hugely encouraging, highlighting consumer enthusiasm for building their own smart home environment," said Teg Dosanjh, Director of Connected Living (AI & IoT), UK & IRE at Samsung Electronics.
"The features included within our updates are designed to make people's lives that little bit easier, elevating the compatibility SmartThings shares with over 150 leading smart home brands. This is another significant step forward for the platform, and we are excited to continue the journey with SmartThings, its ecosystem and our customers."
Partnerships
SmartThings is continually adding new brands and devices to enable users to conveniently control all their Smart home products from one app. As part of the latest announcement, SmartThings has added the following third-party services to its ever-growing portfolio:
To read more about Samsung SmartThings and compatible smart products, visit: smartthings.com
ENDS
About Samsung SmartThings
Samsung is committed to delivering valuable experiences for its customers, which is why SmartThings is built into all flagship products. SmartThings is the easiest way to connect and control a wide range of devices from Samsung and other leading smart brands, all from one app – making life simpler, safer and more entertaining.
With expertise and experience across consumer technology and IoT, SmartThings hardware and software validates Samsung's leadership in offering people a single, seamless and intelligent experience, allowing them to live a smarter, more connected life.
With millions of users on the platform to date, and thousands joining every week, SmartThings is one of the largest open ecosystems of connected devices, available on both Android and iOS, and compatible with the leading voice assistants. By openly publishing APIs and schemas, developers are enabled to utilise and evolve the platform's offering, supporting SmartThings' mission to help users save time, effort and money.
For more information, www.samsung.com/uk/smartthings.
[1] All features require a Samsung user account, SmartThings App, and a network connection.
Tags:
can harmony control smart plugs through alexa