Song Yadong, Sodiq Yusuff and Terrance McKinney will put the UFC's future on display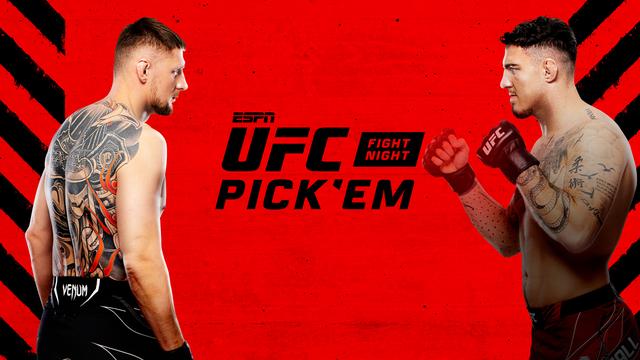 LAS VEGAS -- Saturday's UFC Fight Night main event is a light heavyweight bout between onetime title challenger Thiago Santos and rising contender Magomed Ankalaev.
There is a lot of intrigue around this 205-pound matchup, as the division is wide open at the moment. Santos (22-9) is rebuilding from a rough stretch in 2020 and 2021, in which he went 0-3 and dealt with a serious knee injury. However, the Brazilian is back in the win column as he defeated Johnny Walker in October.
Ankalaev (16-1), meanwhile, is one of the hottest contenders in the division, having won seven in a row. Some call the Russian a future champion, but this is arguably his toughest test to date and his first appearance in a five-round fight.
Beyond Saturday's headliner, however, there is a lot to watch out for on this main card. It's packed with promising prospects who could reach a UFC title fight in the next several years. Here's a closer look at three of the top names to keep an eye on this weekend, outside of the main event.
---
Song Yadong, bantamweight
Song Yadong stuns Julio Arce with a head kick and then finishes him off with strong punches in the second round.
Saturday's opponent: Marlon Moraes
UFC career thus far: Song, 24, is the youngest of the three prospects highlighted here but has the most UFC experience by far. Fighting out of Team Alpha Male in Sacramento, California, Song (18-5-1, 1 NC) made his UFC debut in 2017 at age 19. He already holds a UFC record of 7-1-1, and he has compiled that record against good competition. At the time of his fights against them, his opponents held a combined record of 129-35-4.
Song is No. 14 in the UFC's 135-pound rankings. Saturday's fight against the No. 10-ranked Moraes (23-9-1) could mark a point of no return. Moraes has lost his past three but still carries a lot of respect as a former WSOF champion and UFC title challenger. If Song wins, he'll likely move into the top 10 and be looking at nothing but top-tier fights for the foreseeable future.
Potential future fights to look for: Can't go wrong with any of the top names, but some matchups that jump off the page: Ricky Simon, Sean O'Malley, Rob Font, TJ Dillashaw.
Urijah Faber, coach, on what makes Song different: One of the coolest things about Song is I remember when he came [to Team Alpha Male] the first time, he was 19 or so and wasn't signed to the UFC. I was walking into wrestling practice and I watched him with one of the lower-level guys and said, "Man, his wrestling is pretty good." I wanted to go with him, and I realized he had a ways to go but he was proficient in wrestling and his standup was really good. And I found out he's a teenager who came here from China by himself, didn't speak a lick of English and just jumped right in with the pros.
When he was a kid, he went to one of those traditional Chinese schools, where they would do eight hours a day of traditional martial arts. He was a guy who traveled to seminars. He had the support of his family and he was just putting himself in places where he could learn. Part of the reason he doesn't have a better, more protected record is he was either lying about his age or having his parents sign something so he could compete when he was 16 years old.
He loves to box, loves the sweet science, but he also has that traditional background where they actually spar and compete from a young age. So, he's been doing that since he was a kid. He can stay in the pocket, and he can be elusive from the outside. He has spinning kicks, side kicks. He's trained all over. He can be Muay Thai, boxing, traditional martial arts. And now he's becoming a super well-rounded wrestler and jiu-jitsu player.
His all-in mentality is special. A lot of people are good at fighting. A lot of people have gifts. Not everybody is all-in. He moved out of his comfort zone. He hasn't been home in over two years. I never have to worry about him -- if I don't see him at practice, I know he's doing something because he's always doing something. That's a champion's mentality.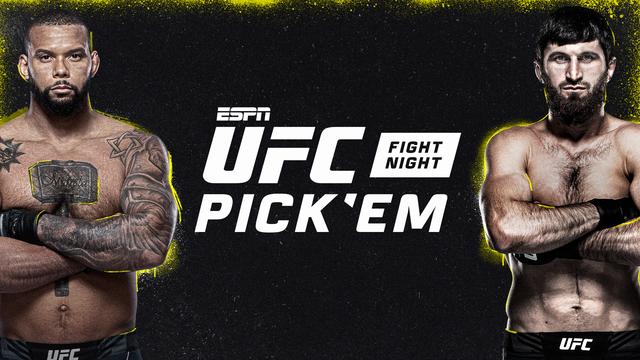 ---
Sodiq Yusuff, featherweight
Arnold Allen stuns Sodiq Yusuff multiple times to cruise to a unanimous decision victory.
Saturday's opponent: Alex Caceres
UFC career thus far: Yusuff (11-2) earned a UFC contract on Dana White's Contender Series in 2018 and has gone 4-1. He is coming off his first Octagon loss, by decision against Arnold Allen last April. If there is such a thing as a quality loss in MMA, that was it. Allen has won eight in a row and is ranked No. 7 in the division. Yusuff lost to Allen by one round, 29-28 -- and actually out-struck him in the bout (79-26).
Due to that loss, Yusuff is flying under the radar. He also missed the second half of last year due to COVID-19 symptoms. He fights No. 15-ranked Caceres (19-12) in a bout that, even if Yusuff wins, likely would not catapult him into the top 10. At 28, though, Yusuff is a bit of a sleeper at 145 pounds. The smart money isn't bailing on his potential based on one loss.
Potential future fights to look for: Yusuff has a fun style. He's fan-friendly. Some potential good matchups: Shane Burgos, Edson Barboza, Josh Emmett, Arnold Allen rematch, pretty much the entire top 10.
Yusuff, on what makes him different: Ever since I was a kid, I wanted to be in the UFC. As soon as I graduated [high school], I went into full-time training with Lloyd Irvin. He moved me into the fighter house and has kind of molded me from the beginning. I've been training like a pro since day one, three sessions a day. So, even though my years trained isn't as long as most, my hours on the mat are equal to guys who have been training all their lives.
In my last fight, technique-wise, I got hit with a punch I couldn't see coming and a head kick, when I was too boxing-focused. And those two things cost me two rounds. I saw someone online say, "He's going to be really hurt when he sees he lost because of two strikes." Because I out-landed him every round, but he did what he was supposed to do and walked away with two big hits. That third round was also the first time I found myself in the position where winning the round didn't matter. I needed a finish, but that never clicked in my head. Fighting is so mental, and I didn't make the adjustment I needed to.
The mental game is definitely something I'm working on. And it's not self-belief; I'm talking about thinking in a fight and how to approach rounds. People don't even know I grapple. That's one of the mental hurdles I need to overcome. My team is big in jiu-jitsu. I moved into the fighter house as a white belt, and I was training with black belt world champions. So, I got really good at getting jacked up [laughs]. It got to a point where I became too defensive. My coach has worked with me on that, like, "Hey, you're good enough to tap these guys. Look for offense."
When I look at guys like Alexander Volkanovski and Max Holloway, I honestly do think my power is enough to stop either one of them. The biggest challenge is mental. I feel they are so seasoned, and that's one of the things I hate about not being as active last year. I want to fight as much as possible this year.
---
Terrance McKinney, lightweight
Terrance McKinney's UFC debut is one to remember, knocking out Matt Frevola just seven seconds into their fight at UFC 263.
Saturday's opponent: Drew Dober
UFC career thus far: It's too early to really gauge McKinney's potential -- but he has been very good so far. In 2019, he came up short against Sean Woodson on Dana White's Contender Series (Woodson has since gone 3-1 in the UFC), but McKinney (12-3) still broke into the promotion last year and impressed in a short-notice fight against Matt Frevola -- McKinney won by seven-second knockout. Since then, he has followed with a first-round finish of Fares Ziam.
Eleven of McKinney's 12 wins have ended inside the first round. This weekend's bout against Dober (23-11) is a massive step up in competition, and the UFC acknowledged that by offering McKinney, 27, a new contract prior to this weekend. A win against a seasoned veteran such as Dober would throw McKinney into a serious fast track in the division.
Potential future fights to look for: There are limitless possibilities for McKinney so early in his career. A few potentially fun ones that stand out: Uros Medic, Jordan Leavitt, Bobby Green.
McKinney, on what makes him different: What sets me apart is my wrestling pedigree. Myself, Islam Makhachev and Arman Tsarukyan probably have the best wrestling in the division. You see how well those two are doing, it's only a matter of time before I catch up. I was ranked No. 1 in the nation in junior college and I could have gone to the Olympics in Greco-Roman, but couldn't raise enough money. God had a different plan for me.
I quit wrestling before I graduated from Notre Dame College [Ohio] to pursue fighting. I truly believe I can hang with anyone in the top 10 right now. I heard about this fight last Friday after Drew's opponent had to pull out. The opportunity presented itself, and God has now paved the way for me to break into the top 10 before the end of this year, just like I wanted. Drew is as durable as they come, so I'm ready to go to war.
Another thing that sets me apart is my willingness to come forward and take risks. A lot of people aren't good at fighting backward, and when you're backing up, you tend to make big, exaggerated movements to stop the other's forward momentum. That's where we can see the takedown or the clean counterstrike.
Tags:
why does my smart plug turn off by itself