techbuzzireland Tech Review – TP-Link Smart Wi-Fi Light Strip Tapo L900-5 techbuzzireland
The tapo is a brand well known to techbuzz as part of the tp-link family. The box briefly gave a clear picture of the features, compatible and a UK support address listed while option to use in a variety of languages available. The QR code is displayed for ease of downloading the app with clear images of the actual light strip visible to highlight the catch phrase "Full colour ambiance for every occasion"
Contents
Setup and use:
Download the tapo app via the QR code, set up an account with easily guided instructions on screen on the app. Once setup the latency is negligible in changing colours on the unit with a variety of options throughout the menu structure. Note when connection to the Wi-Fi only use – Wi-Fi Frequency: 2.4 GHz
Setting up the unit to e.g Alexa worked as expected, adding a skill, and linking this to the tapo app. The Alexa option allowed voice control to turn off or on, but not the option to change the colours via voice control. Overall, this worked well either via the phone app, tactical control, or voice control .
Niggles: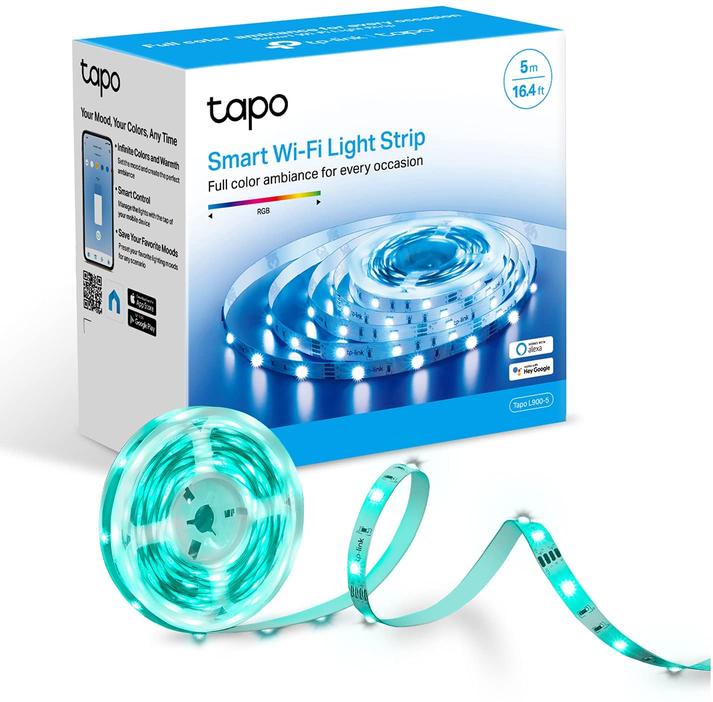 The design in terms of software and functionality works well but in terms of out of the box experience having a black plug going into a white cable on off switch (AKA Tactical Control which is the controller box to manipulate the Light Strip. This allows the unit to be turned / off / on, reset the Light Strip and change the current colours.)looks completely out of sync, and again TP prefers to use a proprietary plug which gives no value to a user. The connection to the cables which again has seen similar in other brands is fiddle and does little justice to the unit.
Conclusion:
The biggest concern for any products of this nature for future proofing is not the 50000 hours lifespan rather the software upgrades and compatibility that happen over time.Many products as with smart phones are obsoletein a few years as happens with lots of technology. The unit has a variety of uses from the obvious colour changes, linking to music or and an extra security deterrent via the use of schedules to set your light to automatically turn on and off.
The family of tp link, tapo may be at a higher level in terms of cost, which is made up for in terms of quality, support and expected future updates and compatibility. An example of this support was a question asked by techbuzz via the tapo app was submitted to Tapo at 5:45 pm on a Sunday evening and a tailored response was received back by 7:39Am on Monday via their TP-Link Technical Support, no subscription was signed up to. This higher level of support with its combined app setup stands out on a product, albeit a few personal niggles, notwithstanding the product does what it's supposed to do, connected and is certainly a unit to give colour and ambiance to an occasion.
Buy on Amazon
https://www.amazon.co.uk/TP-Link-Tapo-Multicolour-Decoration-L900-5/dp/B098PHLZ3N/ref=sr_1_4?dchild=1&qid=1632696823&refinements=p_4%3ATP-LINK&s=lighting&sr=1
Share this:
Like this:
Like Loading...
Post navigation
Tech Review –Tech21 evocheck case for iPhone 13 ProTech Review – Instax Link WIDE mobile photo printer
Tags:
how do i reset my tp link smart plug