The Best Smart Light Switches for Your Home
You can easily add smart functionality to floor or table lamps by using a simple smart plug, or a smart lightbulb like the Philips Hue. Smart light switches can offer even more flexibility, however, and are a great way to add voice or app-based control to lighting throughout your home. They require a bit more work to install, and the expense of an electrician if you're not comfortable doing so yourself, but they can offer a ton of convenience and peace of mind—not to mention some potential energy savings.
What to Consider
Since smart light switches need to be hardwired and—for many—professionally installed, you'll want to make sure that you get the right ones for your needs the first time around.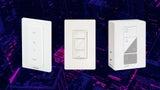 A key consideration is to choose light switches that will work seamlessly with your smart platform of choice, be it Amazon Alexa, Google Assistant, or Apple HomeKit. If you have other devices that rely on a specialized smart home platform like Z-Wave or ZigBee, you'll want to make sure you pick a corresponding light switch to get the most out of your system.
It's also important to ensure the switch you choose will work with your home wiring. Many smart light switches require what's known as a neutral wire, which some older homes may not have. Some smart light switches may also be too big to fit in smaller switch boxes, which can also be common in older homes. As with anything involving home wiring, if you're not sure, it's always best to check with an electrician first.
How We Chose
To pick the products highlighted here, we turned to trusted sources like Wirecutter, TechHive, Tom's Guide, and others that have tested and reviewed a wide range of smart light switches. We also took countless online customer reviews into account, focusing on products that are consistently rated at least four out of five stars or higher.
Tags:
does amazon smart plug work with wink