Wyze Lamp Socket Starter Kit Review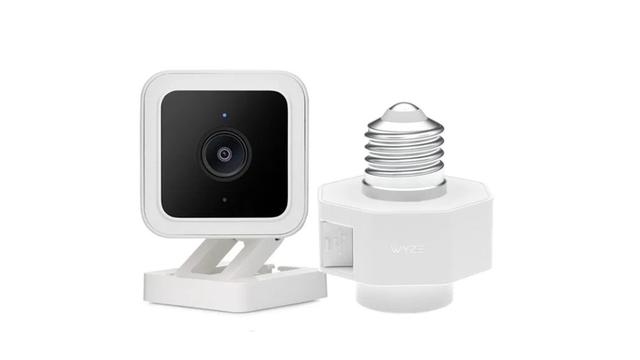 Combining smart lighting and home security, the two-piece Wyze Lamp Socket Starter Kit ($45.99) bundles a Wi-Fi-enabled light socket and the Editor's Choice-winning Wyze Cam V3 security camera. The socket enables you to control any light bulb you screw into it with your phone, and provides power to the Wyze Cam V3, so you don't have to install any additional wiring to get it running outdoors. The combination is very easy to install, though you can't control the socket with your voice and it doesn't work with third-party platforms. For a brighter view of your home's exterior, the $84.99 Wyze Cam Floodlight pairs the the Wyze Cam V3 with two bright, motion-sensing LEDs, but it requires wiring. That makes the Lamp Socket Starter Kit a much simpler option for bringing smart lighting and security to any part of your home where you can already screw in a bulb.
A Two-Piece System
Two components comprise the Lamp Socket Starter Kit: a screw-in smart socket and a Wyze Cam V3 (available on its own for $35.98). While the socket exclusively powers the Wyze Cam V3, it can still interact with other Wyze devices if you set up the appropriate rules (more on this later). You can connect and control up to five sockets per each Wyze Cam V3; add-on sockets cost $9.99 each.
Our Experts Have Tested 36 Products in the Home Security Cameras Category in the Past YearSince 1982, PCMag has tested and rated thousands of products to help you make better buying decisions. (See how we test.)
The round white socket measures 2.5 by 2.2 by 2.2 inches (HWD) and has an E26 screw-in base and bulb socket. It can handle bulbs of up to 30 watts. You use a USB-A port that sits on the side of the socket behind a removable rubber cover to power the camera. This is a major benefit of the Starter Kit: You don't need to worry about running wires for power into your house. Onboard Bluetooth and Wi-Fi (2.4GHz) radios are there for wireless connectivity.
Unlike the Wyze Cam V3, the socket isn't weather resistant and you should only install it in a fixture that offers protection from the elements, such as a covered porch light. For reference, many smart floodlights, including the aforementioned Wyze model and the Ezviz LC1C, carry an IP65 weather-resistance rating.
Similar Products
4.5Outstanding
Arlo Pro 4 Spotlight Camera
$179.99 See Itat AmazonRead Our Arlo Pro 4 Spotlight Camera Review 4.5Outstanding
Wyze Cam V3
$35.98See Itat AmazonRead Our Wyze Cam V3 Review 4.0Excellent
Deep Sentinel Starter 3-Cam Kit
$699.00See Itat Deep Sentinel Home SecurityRead Our Deep Sentinel Starter 3-Cam Kit Review4.0Excellent
Ring Stick Up Cam Battery
$99.99See Itat AmazonRead Our Ring Stick Up Cam Battery Review4.0Excellent
Wyze Cam Floodlight
$84.99See It at WyzeRead Our Wyze Cam Floodlight Review 4.0Excellent
Wyze Cam Outdoor
$59.98See Itat AmazonRead Our Wyze Cam Outdoor Review 4.0Excellent
Arlo Essential Spotlight Camera
$91.46See Itat AmazonRead Our Arlo Essential Spotlight Camera Review4.0Excellent
Blink Outdoor
$99.99See Itat AmazonRead Our Blink Outdoor Review4.0Excellent
Blurams Outdoor Pro
$59.99See Itat AmazonRead Our Blurams Outdoor Pro Review 4.0Excellent
Google Nest Cam (Outdoor or Indoor, Battery)
$179.99See Itat Best BuyRead Our Google Nest Cam (Outdoor or Indoor, Battery) Review4.0Excellent
Reolink Argus 2
$94.99See Itat AdoramaRead Our Reolink Argus 2 Review4.0Excellent
Ring Floodlight Cam Wired Pro
$249.99See Itat Amazon Read Our Ring Floodlight Cam Wired Pro Review
In the box, you also get six cable clips along with their associated screws and anchors; assorted camera mounting hardware; a USB cable; mounting tape; and a user guide.
App and Integration Options
The socket uses the same Wyze mobile app (available for Android and iOS) as every other Wyze device, but doesn't get a dedicated panel on the home screen. Instead, it appears as an Accessory in the Wyze Cam V3 settings menu. Here you can tap the Lamp Socket tab to manually turn it on and off, as well as configure it to automatically turn on from sunset to sunrise or when the camera detects motion or sound. You can also set a timer for it; create a usage schedule, and update its firmware. All of these settings apply to every socket that you connect to the camera.
To create rules that enable the socket to interact with other Wyze devices, tap the pencil icon in the upper right corner of the home screen. For example, you can set the socket to turn on or off when another camera detects motion or when a smart plug powers on or off.
The socket doesn't work with IFTTT applets; Apple's HomeKit platform; or Alexa and Google routines. The camera is capable of streaming video to Amazon Echo Show and Google Nest Hub devices, however.
Simple Setup Is Key
Ultimately, the key idea here is that the Lamp Socket provides power to the camera, so you don't need to run any additional wiring. That makes it easy for just about anyone to set up an outdoor security solution wherever they already have a light fixture.
If this is your first Wyze device, you need to start by downloading the app and create an account. After turning off the power to my porch light, I removed the bulb, screwed in the Wyze socket, and then screwed the bulb into the socket. Next, I removed the protective USB cover, plugged in the USB cable, and mounted the camera on the wall next to the light fixture. I connected the camera to the USB cable, restored power to the fixture, and tapped the plus button in the upper left corner of mobile app's home screen. I tapped Add Device, selected Cameras, and chose the Wyze Cam Lamp Socket. I picked the option to set up both the camera and the socket, tapped Check Wi-Fi Signal Strength, and then selected the Start Installation option.
The next few screens walk you through the physical installation process, so I kept tapping Next until I got to the screen that instructed me to press the Setup button on the base of the camera. I confirmed that I heard a "Ready to Connect" prompt, selected my Wi-Fi SSID, entered my Wi-Fi password, and scanned the device's QR code with my phone. I tapped Next and Wyze immediately added the camera to my account; the camera also showed up on my Alexa account. I gave the device a name to complete the installation process.
The Lamp Socket and Wyze Cam V3 combo worked well together. The socket reliably reacted to motion and sound triggers, plus responded quickly to app commands to turn on and off. It adhered to my schedules without issue and followed a rule I set up for it to power up when a Wyze Plug turned on. The Wyze Cam, meanwhile, functions exactly like it does whether or not it's attached to the socket, so you can see our Wyze Cam V3 review for more details.
A Useful Extension of a Great Camera
The low-cost, two-part Wyze Lamp Socket Starter Kit lets you monitor and light up the outside of your home when someone or something is on your property. The socket makes it easy to power the camera without running a power cord to the inside of your house, and reliably responds to motion and sound events detected by the camera. Both components are easy to install and integrate with other Wyze devices, but the socket only powers the Wyze Cam V3 and doesn't support third-party platforms. So if you're going to spend $35.98 for a Wyze Cam V3 and you want a simple way to install it outside, spending the extra $10 on the Lamp Socket Starter Kit is a no-brainer. If you're comfortable working with wiring and want more powerful lights, meanwhile, consider the Wyze Cam Floodlight. Or if you want better support for third-party services and are willing to pay a premium for it, check out the $249.99 Arlo Pro 3 Floodlight Camera.
Wyze Lamp Socket Starter Kit
4.0See It$45.99 at WyzeMSRP $45.99
Pros
Cons
The Bottom Line
The Wyze Lamp Socket Starter Kit lets you add smart features to traditional lighting fixtures while powering the included Wyze Cam V3 without needing to run additional wires.
Like What You're Reading?
Sign up for Lab Report to get the latest reviews and top product advice delivered right to your inbox.
Email
This newsletter may contain advertising, deals, or affiliate links. Subscribing to a newsletter indicates your consent to our Terms of Use and Privacy Policy. You may unsubscribe from the newsletters at any time.
Thanks for signing up!
Your subscription has been confirmed. Keep an eye on your inbox!
Sign up for other newsletters
Tags:
how many watts can a smart plug handle