The Best WiFi Extenders for Stronger Connection at Home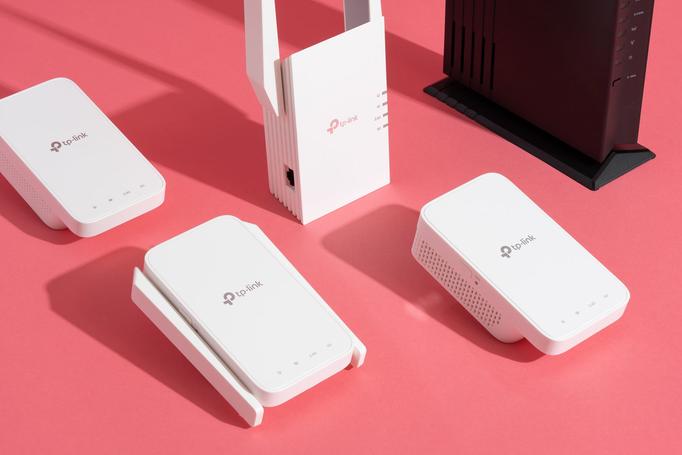 Photo: amazon.com
If your router isn't providing the coverage you need, a WiFi extender may be the solution. A WiFi extender, also called a WiFi booster or repeater, is a device that improves WiFi coverage. It amplifies the range of an existing router to reach areas with weak or no signal. A WiFi extender is a useful tool to eliminate dead zones and improve unreliable coverage.
The best WiFi extenders boost the range of your router and offer a solid, reliable signal. Be sure to choose an extender that can handle your current home internet speed. A quality extender is easy to set up and won't throttle connection speed. Also consider design and space. Plug-in extenders are discreet and only need a conveniently placed outlet. Desktop models can be more powerful but take up more space. For outdoors, a weatherproof design keeps the extender safe.
For large homes or particularly spotty coverage, consider upgrading to a mesh system. Since they work as one system, mesh networks can provide faster speeds, better coverage, and easier management than separate routers and extenders. The right setup will help bring WiFi to all corners of your home, from the bedroom to the office, or even outdoors to the patio and backyard.
Our Top Picks
A WiFi extender takes your current WiFi signal and amplifies it to provide further coverage. The best WiFi extenders are straightforward to set up. Once installed, they offer a reliable signal to fill in the dead zones in your wireless coverage. Here are the top picks, including one we tested ourselves.
Best Overall
1
TP-Link AC2600 WiFi Extender (RE650)
Photo: amazon.com Check Latest Price
This plug-in WiFi extender from TP-Link extends internet access to dead spots in your home. It has four antennas that deliver extensive coverage up to 14,000 square feet.
This extender is easy to set up. It has an intelligent signal indicator light that helps find the best spot to plug in. The indicator lights up blue when it detects a spot with a strong signal. The corresponding TP-Link Tether app allows you to set schedules, manage your device, and update guest access from your phone.
The dual-band capacity delivers speeds up to 2,600 Mbps for 4K streaming and gaming. This extender also features MU-MIMO technology, which helps the extender talk to multiple devices over the same WiFi band. This means you can have multiple devices connected at once without any dropping or buffering. Lastly, a handy Gigabit Ethernet port allows you to connect wired devices to your network.
Best Bang for the Buck
2
NETGEAR Wi-Fi Range Extender EX2700
Photo: amazon.com Check Latest Price
Although it may not match the range and max speed of other range extenders, Netgear's EX2700 is a great solution for extending a router's signal on the cheap. This extender adds 800 square feet to a router's signal, with internet speeds up to 20 Mbps. It can connect to up to 10 devices and works with all routers. LED indicators on the front make it easy to see if the extender is connected to the router and devices. It also supports the router's existing security, preventing hackers from infiltrating a home network via the extender.
Not only was this compact extender easy to install, in our testing, the range extender doubled our internet speeds. When using multiple devices, we immediately noticed faster loading times for videos and webpages. While it only connects to a router's 2.4GHz bandwidths, not 5.0 GHz bandwidths, we found that this little device was well worth the thrifty price point.
Upgrade Pick
3
NETGEAR WiFi Mesh Range Extender EX7700
Photo: amazon.com Check Latest Price
This desktop WiFi extender from NETGEAR features tri-band technology for super-fast speeds. With the tri-band and patented FastLane3 technology, this extender delivers speeds up to 2,200 Mbps. It's a top pick to handle 4K Ultra HD streaming or multiplayer online gaming.
This model is mesh-networking capable and features MU-MIMO technology. It offers coverage up to 2,300 square feet and connects up to 45 devices. It also has two Gigabit Ethernet ports to plug into when needed. With the NETGEAR WiFi app, you can easily change settings and customize controls like WiFi access and schedules.
The seamless roaming feature uses the same network name and password as your router. This means you won't get disconnected when moving between the router and extended coverage zones. The extender has a sleek and modern look and doesn't look clunky on a desktop.
Best Design
4
NETGEAR WiFi Range Extender EX5000
Photo: amazon.com Check Latest Price
This WiFi extender from NETGEAR features a discreet and compact plug-in design. This unit has no external antennas and is very small—it doesn't even look like a WiFi extender at first glance. Best of all, it doesn't cover an extra outlet like some other plug-in extenders.
Although this extender is compact, it doesn't sacrifice any features. It has a 1,500-square-foot range and can handle up to 25 devices. The dual-band technology delivers up to 1,200 Mbps speeds and reduces interference when multiple devices are connected.
This unit is easy to install with the one-touch setup feature. For installation, it can connect to the NETGEAR WiFi Analyzer app to help detect the optimal location. Even with the minimal design, it has an Ethernet port to connect wired devices.
Best Outdoor
5
TP-Link Omada AC1200 EAP225-Outdoor
Photo: amazon.com Check Latest Price
For WiFi access on the patio, in the backyard, and poolside, this dual-band extender is the ideal pick. The slim and stylish design is well suited for both indoor and outdoor use. It features a durable weatherproof enclosure to keep components safe when used outside. The enclosure is waterproof and prevents dust from entering. The dual-band technology delivers speeds up to 1,200 Mbps. In outdoor settings, this extender offers a more than 200-meter range on the 2.4GHz band and more than 300 meters on the 5GHz band.
This unit includes two omnidirectional, detachable antennas (not included) that can be switched out with other antennas to suit your needs. It also features MU-MIMO technology to enable a strong signal to multiple devices at once.
The outdoor capability is ideal for businesses to allow guests seamless access to WiFi networks. For easy monitoring and control, you can adjust settings from the handy Omada app.
Best Mesh System
6
NETGEAR Orbi Tri-band Whole Home Mesh WiFi System
Photo: amazon.com Check Latest Price
A mesh system is a step up from a router and extender combination. Consider a mesh system for large spaces, or if it's time to upgrade a spotty router and extender combo.
This WiFi mesh system from NETGEAR includes one router and one satellite, which can deliver up to 3 Gbps speeds. It covers up to 5,000 square feet and connects more than 25 devices. Each additional satellite can expand coverage up to 2,500 square feet. The tri-band and MU-MIMO technology maximizes available internet speed and performance.
This mesh system allows you to use a single network name for uninterrupted roaming. Setting up, monitoring, and controlling features are straightforward with the corresponding Orbi app. Each unit includes multiple Ethernet ports for wired devices. The clean and simple design fits modern home styles.
Best with Wifi 6 Support
7
TP-Link AX1500 WiFi Extender
Photo: amazon.com Check Latest Price
This dual-band WiFi extender from TP-Link is compatible with all WiFi-enabled devices, routers, and access points—including WiFi 6 devices. Its WiFi 6 speeds allow for smooth and reliable streaming, gaming, and more, with speeds up to 1.5 Gbps. This extender has a high-speed mode, which uses both WiFi bands to enable a super-fast connection.
This extender includes many of the features of other TP-Link devices, including monitoring from the TP-Link Tether app. For easy setup, the intelligent signal indicator lights up when the extender is in an optimal location.
The high-gain antennas on this extender cover up to 1,500 square feet and can connect to 25 devices. The extender uses one network name to connect the router and extender, which allows for seamless roaming in every room. The Gigabit Ethernet port allows connection to wired devices. Lastly, this unit is compatible with OneMesh routers to create a mesh system if needed.
Tags:
why does my tp link smart plug keep disconnecting