Andy Murray fumes over excessively long bathroom break by opponent Stefanos Tsitsipas at US Open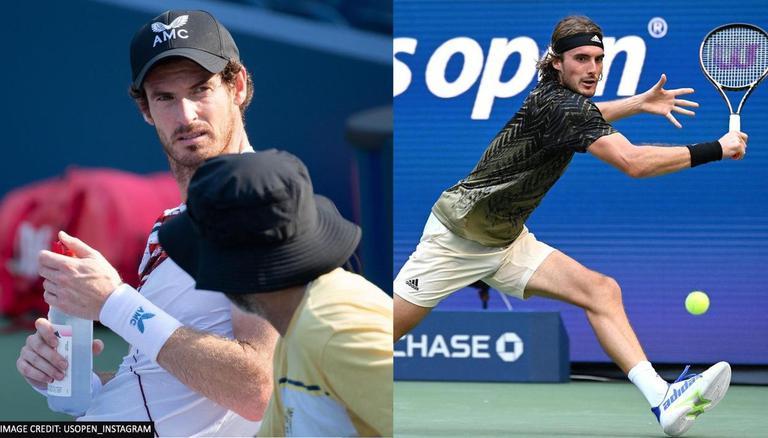 Former U.S. Open champion Andy Murray was fuming toward the end of his first-round loss to No. 3 seed Stefanos Tsitsipas on Monday — and well afterwards — over what he viewed as an unethically long bathroom break before the decisive fifth set. Tsitsipas also took a medical timeout after losing the third set to Murray to have the trainers look at a foot injury.
Immediately after the bathroom break, which clocked in at roughly eight minutes, Tsitsipas broke Murray's serve and held on for an eventual 2-6, 7-6 (9-7), 3-6, 6-3, 6-4 victory. Murray complained loudly about it to the chair umpire throughout the fifth set and offered an icy handshake at the net following match point.
Even after cooling down briefly in the locker room, Murray didn't hesitate to unload on Tsitsipas' tactics.
"It's just disappointing because I feel it influenced the outcome of the match," Murray said. "I'm not saying I necessarily win that match, for sure, but it had influence on what was happening after those breaks. I think he's a brilliant player. I think he's great for the game. But I have zero time for that stuff at all, and I lost respect for him."
In fact, at the Western & Southern Open in Cincinnati fewer than two weeks ago, Alexander Zverev accused Tsitsipas during their semifinal match of taking his cell phone into the restroom after losing the first set and texting with his coach and father Apostolos, which is not allowed on the ATP Tour.
Zverev had no proof that Tsitsipas broke any rules, but at the very least, the long restroom breaks can be viewed as an attempt to disrupt rhythm or frustrate an opponent — and Tsitsipas has gained a reputation for abusing that loophole.
"I don't think it's a good look for the players either. I'm sitting in here after a match like that against one of the best players in the world, and rather than talking about how fantastic he is, how good he is for the game, how great it was for me that I was able to put on a performance like that after everything that's gone on the last four years, but I'm sitting in here talking about bathroom breaks and medical timeouts and delays in matches. That's rubbish. I don't think that that's right."
Tsitsipas said he looks up to Murray and would try to speak with him one-on-one about the issue.
"If there's something that he has to tell me, we should speak the two of us to understand what went wrong," Tsitsipas said. "I don't think I broke any rules. I played by the guidelines and how everything is. It's definitely something for both of us to kind of chat about because I don't know how my opponent feels when I'm out there playing the match. It's not really my priority. I'm playing by the rules and sticking to what the ATP says is fair, so the rest is fine."
Tags:
how to sit on toilet after hip surgery