The COVID-19 pandemic turns 2. So does Libby, the toddler born on the day when Vermont shut down.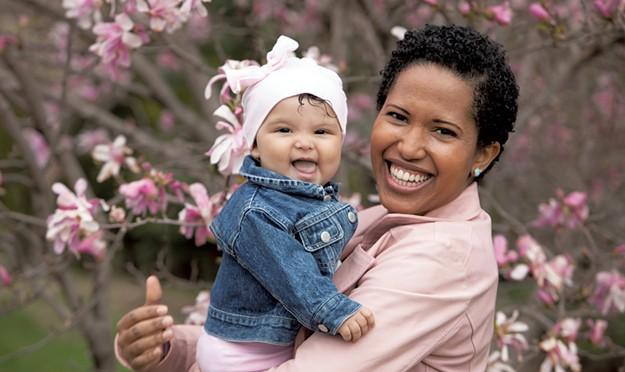 ST. ALBANS — Katie Miller was holding a newborn when Gov. Phil Scott appeared on the television screen in her hospital room back on March 13, 2020.
"There is no doubt these are difficult steps that, for a few weeks or possibly months, will change what we do in our daily lives," Scott naively said two years ago. "But the compassion and commitment of our people and communities will see us through."
Miller, who had gone through labor just hours before, broke into tears.
And that newborn, Libby, is now two years old.
For Miller, her daughter Libby – born on the same day Scott issued his "Stay At Home" order – is physical proof of how long the COVID-19 pandemic has disrupted the lives of Vermonters, and she's getting big.
"Our abnormal is her normal," Miller, of St. Albans, said.
Libby doesn't know that wearing masks used to be optional, Miller said, nor has she seen anything resembling crowds of people. For the last two years, she's remained mostly sequestered from friends and family, who have only seen her through view screens or waving from behind windows, and Libby is starting to get a little anxious to get out.
March 13, 2020
As Miller prepared to give birth to her second daughter, the state was going into lockdown mode. Checking into UVM Medical Center in the days before, Miller said she remembered being screened and questioned about potentially having COVID-19. It was the first time she had been temperature checked, and by the time she entered labor, the hospitals were changing up their visitation rules.
Miller, however, had other things to worry about.
"We had televisions, but I'm not going to watch the news when I'm in labor," she said.
In that moment, the world seemed to shift, and Libby's future became something else. Almost immediately, Miller was sending out emails. Her employees at Inclusive Arts Vermont were frantically trying to react to the new rules, and she couldn't leave them hanging as the nonprofit's executive director.
Miller said she's been in "putting out fires" mode since.
To buy diapers and toilet paper in the early days of the pandemic, she was participating in deals made in parking lots to make sure Libby had what she needed. Miller's parents mailed her baby wipes when she couldn't find them in local stores.
Then the schools shut down. Then childcare shut down, and Miller's older daughter, Maggie, was cut off from her favorite people. For an autistic child, the move was like pulling a rug out from under her.
Libby, however, was still a newborn. When Miller needed medical guidance, trips to the doctor's office had to be limited due to the scaling back of non-essential visits, and for a few months there, the family stayed inside sheltered and trying to adapt when almost every institution was changing their rules. As everything changed, she couldn't even find solace in sleep due to a crying child.
"It was just absolute mayhem," she said. "We were doing back-door deals for toilet paper. It was ridiculous."
Meanwhile, Libby kept growing, and the pandemic raged on. Those weeks turned into months, which turned into years, and Libby stayed inside.
Libby's normal
Miller is an extrovert. So when the pandemic began and she found herself cut off from everyone, she looked for an outlet. Social media and her online persona became that window into the world.
Libby's milestones became a part of that. Miller cataloged those firsts online, via social media and blogging, for those who couldn't experience them.
"There are people who adore her and haven't met her," she said.
Miller, a naturally optimistic person, said she's thankful for the increased time being stuck inside allowed her to spend with her family. She's found a solid community of people online as she's developed her online presence.
But it's still been a bittersweet experience watching Libby grow up in such a restricted environment away from the larger community, especially as her daughter seems to blossom when she meets new people.
When Miller took her daughter to go apple-picking this past fall, she said Libby was elated at the chance of meeting and interacting with new people. Miller had also taken her to Town Meeting Day, and the almost two-year-old took her time returning to the car, choosing to squat down for a moment out in the cold wind before following her mother and returning home.
"She doesn't want to go back inside," Miller explained as she left city hall.
Libby will turn two on March 13, and she'll be celebrating the achievement with the same three people she's been around since birth – her mother, her father and her sister.
"I would love to have people come over, but it's not time yet," Miller said.
Looking ahead
Miller is still waiting on vaccination guidance for her children. The vaccines have yet to be approved for those under five years old, which include both her children.
And she's still dealing with surprise school closings. To have to be in constant response mode, she said she's lived on edge "waiting for the other shoe to drop."
Someday, when the pandemic ends, she's looking forward to the day she has room to breathe.
When that may be, however, is anybody's guess. COVID-19 case numbers are definitely going down. Since January's peak of 237 cases in one day, the number of reported daily cases in Franklin County has dwindled to single digits. Vermont schools have also relaxed their mask mandates, making wearing them a personal choice.
Miller said the whole idea of optional masks is a foreign concept to both Maggie and Libby, who often remind their mother to "don't forget your mask" before they leave the house.
"When I told her, my big kid looked at me like I had 12 heads. The fact that it was a choice blew her mind," she said.
Miller said Maggie opted to keep her mask on.
But Miller is ever optimistic. When she is able to introduce Libby to the life delayed for her, she said she likes to think the pandemic will be a good thing in the long run.
Many people have learned lessons after being away from their communities and their neighbors for so long. Miller said we've learned to care a little more, enjoy the moments and see each other as a little more human.
But when Libby is given that age-old homework assignment to talk to a relative about a major historical event, Miller is looking forward to the day she'll be able to see the pandemic as something that can be ignored.
"I don't know if they'll be asking about 9/11 or Jan. 6, or whatever, but if it's the pandemic, then 'Listen, you're going to have to take an F. I don't want to talk about it.'"
Tags:
how to squat on the toilet