VFW Santa Parade kicks off at 1 p.m. Sunday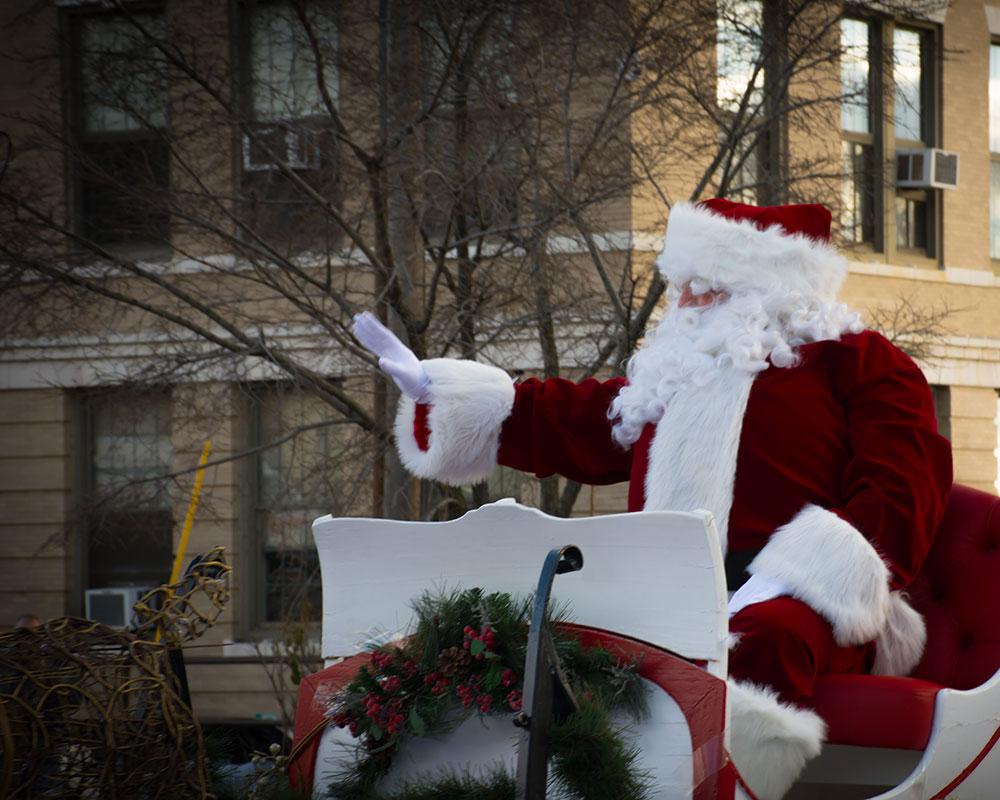 HAVERHILL — The 57th annual VFW Santa Parade, themed "Santa Claus IS Coming to Town," kicks off in front of the Bradford Fire Station Sunday at 1 p.m.
Considered the longest-running parade north of Boston, the VFW Santa Parade typically draws thousands of children and adults who this year will be treated to a spectacle that will include fire engines and other emergency vehicles from across the Merrimack Valley, antique and specialty cars, the Patriot Riders of New Hampshire, color guards and various veterans organizations, all led by Parade Grand Marshall, purple heart recipient Donald Jarvis.
The popular Hallamore Clydesdales & Hitch are back along with many returning marching bands, including the Georgetown Royal Lancers, Salem High School, Reading High School, Londonderry High School Lancers, Beverly High School, Haverhill High/Middle School Band and the Sons of Italy Drum and Bugle Corps.
Other musical performers include the Great American Marching Band, New Liberty Jazz Band, Clan MacPherson Pipes & Drums, New Magnolia Jazz Band and the Middlesex County Volunteers Fife and Drum.
Lots of floats are included in the lineup, including Opportunity Works, Pentucket Bank, Greenleaf Academy, Haverhill Promise, King of Grace Church, Haverhill Girls Softball League, Covanta Energy, Bartlett School, Veterans Northeast Outreach Center, Ozzie's Kids and of course, the Whittier Regional Vocational Technical High School float, which is always a favorite.
And as usual, Santa Claus arrives at the end of the parade on a float pulled by his flying reindeer.
The parade will travel along South Main Street, past the Bradford Common and over the Basiliere Bridge before turning left onto Merrimack Street, then right onto Emerson Street, where it will disband at the intersection of Ginty Boulevard.
The event costs about $45,000 to put on each year, with most of the money coming from donations and fundraisers as well as from funds collected during the parade itself.
To donate to this year's Santa Parade, visit online at http://haverhillsantaparade.com. You can also send a check to VFW Santa Parade, P.O. Box 5345, Bradford, MA 01835.
Donate your used eyeglasses to the Lions Club
The Haverhill Lions Club will be collecting donations of used eyeglasses. Watch for Lions Club District 33N EyeMobile with Lions Club members walking alongside to collect your donations of used eyeglasses.
Betsy Conte Food Drive
The 23rd annual Betsy Conte Food Drive takes place during the parade. Spectators are encouraged to bring nonperishable food items.
Wagons will be pulled along the parade route to collect the donations, all of which will be transferred to hay wagons donated by Chris' Farm Stand and will be sorted by the Boy Scouts of Troop 5 from West Church and Betsy Conte's children, grandchildren, family and friends.
The wagons will deliver all of the items collected to Common Grounds on Winter Street, for distribution to local food pantries in conjunction with the Interfaith Network of Caring. Food pantries participating in this year's food drive include All Saints Parish, Sacred Hearts Parish, Liz Murphy Open Hand Pantry, Somebody Cares New England, the Pregnancy Care Center, Presidential Gardens, Emmaus House, and Common Ground.
Some of this year's most needed items include toiletries, toilet paper, canned meat products, and peanut butter.
The drive celebrates the memory of Conte, a former Haverhill city councilor and community activist.
Tags:
how to stop running toilet with ball float