A dystopian robot arm is taking over TikTok, but what does it really mean?
Back in 2016, Sun Yuan and Peng Yu — two of China's most scandalous artists, known for using controversial materials such as live animals and human tissue in their work — debuted a new installation, commissioned for the Guggenheim Museum in New York. Titled Can't Help Myself (2016-19), the artwork featured an industrial robot arm in a large glass box, where it had one task: contain a pool of viscous red liquid seeping out across the floor.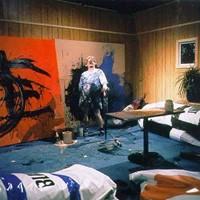 Fitted with a custom-designed shovel, the mechanical arm detected when the liquid (which, despite the artists' previous controversies, was not actually blood) moved outside of a predetermined circle. Then, using one of 32 pre-programmed movements, the machine would twist around the case, scraping the liquid back into place.
When Can't Help Myself appeared in the main show at the 2019 Venice Biennale, however, the movements — dubbed "scratch an itch", "bow and shake", "ass shake", and so on — looked different. Over time, the robot arm had slowed down, as if it was tired of the eternal task it was programmed to perform. What's more, the glass walls of its box were spattered with red, and the white floors were smudged an eerie pink.
It's this tired version of the artwork that has since found new life on TikTok. In several videos, users document its gradual decline, adding their own soundtrack: Lana Del Rey's "Dealer", or Radiohead's "Exit Music (For A Film)", or another sentimental TikTok fave, "Je te laisserai des mots".
Tags:
why is my robotic pool cleaner missing bits