Best Cordless Vacuums 2022: Levoit Brings Air-Filtration to Its First-Ever Vacuum Cleaner
Getting ready for spring cleaning? As the weather gets warmer, we get inspired to overhaul our space or tidy things up around the home (plus, spring allergies).
We all know a great vacuum is essential for quick cleaning, so there's no better time to invest in a brand new convenient cordless vacuum — whether you're looking for a stick vacuum or a self-cleaning robot vacuum. However, if you still prefer the classic upright vacuum, we have selected the best ones in that category too.
From deals to new launches — like the newly launched Levoit VortexIQ 40 Cordless Stick Vacuum, which automatically detects debris and adjusts suction power, from the brand that is best known for their air purifiers — ET has curated a list of the best vacuums, including the best upright, robot, handheld and stick cordless vacuums for spring 2022.
Keep reading to check out 15 of the best vacuums on the market right now.
---
Best Stick Vacuum Cleaners
Looking for an extra lightweight vacuum, or one without a pesky cord to drag around your freshly cleaned floors? Whether it's a stick, cordless or even handheld vacuum cleaner, there's something here to keep your house spick and span with as little hassle as possible.
Levoit VortexIQ 40 Cordless Stick VacuumLevoit Levoit VortexIQ 40 Cordless Stick VacuumLevoit has launched the VortexIQ 40 Cordless Stick Vacuum. If you love convenient technology, this cordless vacuum has exactly that. It can automatically detect the level of debris traveling through the vacuum and adjusts the suction power level for you. And, since Levoit is best known for their air purifiers, the vacuum is enhanced with dual HEPA-type filters, trapping at least 99.9% of particles 0.3 microns in size.$260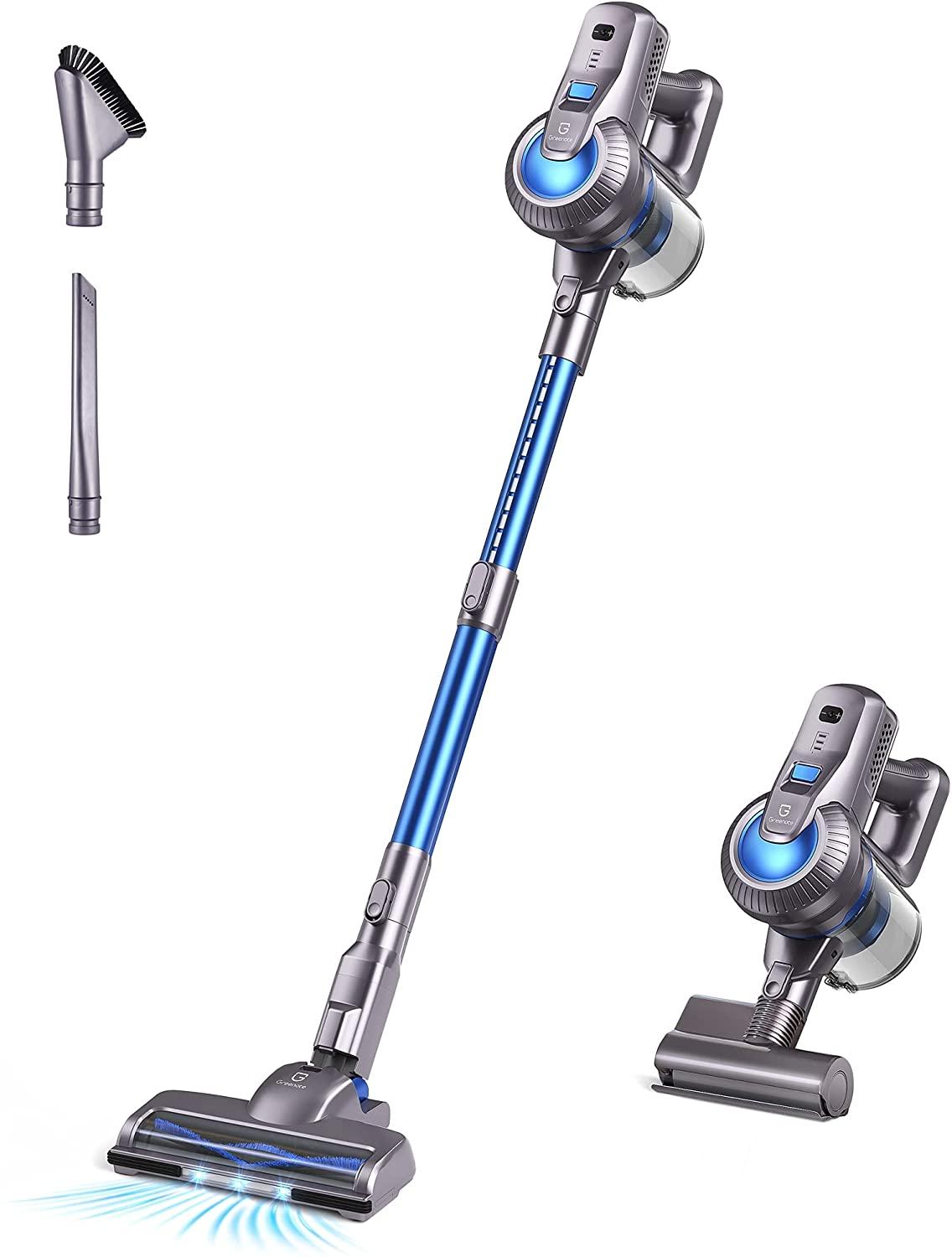 ---
Greenote Cordless Vacuum CleanerAmazonGreenote Cordless Vacuum CleanerThe Greenote Cordless Vacuum Cleaner is a great affordable option. Amazon reviewers even compare this to the Dyson. Key features include LED light, expandable handheld attachment, low noise design and an ergonomic handle. $130
---
Bissell CrossWave All-in-One Multi-Surface Bagless Stick VacuumWayfairBissell CrossWave All-in-One Multi-Surface Bagless Stick VacuumClean everything from your hardwood floors to your area rug with this Bissell Multi-Surface Bagless Stick Vacuum.$310$227
---
Samsung Jet 75 Pet Cordless Stick VacuumSamsungSamsung Jet 75 Pet Cordless Stick VacuumDifferent power settings allow you to handle anything from cleaning up pet hair to cleaning any standard surface including hardwood, tile or carpet. $500$400
---
Bissell 1984 Air Ram Cordless VacuumBissell via AmazonBissell 1984 Air Ram Cordless VacuumThis ultra lightweight cordless vacuum weighs in at under 8 pounds, boasts a battery life of 40 minutes, and has a low to the ground base with a flexible handle that helps clean deep underneath your couch, bed or anywhere else pet fur might be gathering. $268
---
Worx 20V Power Share Cordless Cube Compact VacuumWorx via AmazonWorx 20V Power Share Cordless Cube Compact VacuumThis portable vacuum cleaner is perfect for keeping small spaces such as your kitchen, workspace or even your car tidy. Weighing in at just 3 pounds and designed to be stacked, this compact vacuum is easy to store. $100
---
Bissell Pet Hair Eraser Hand VacuumBissellBissell Pet Hair Eraser Hand VacuumThis mini cordless vacuum is perfect for helping pet owners keep up with the constant micro-messes our furry friends love to make without having to haul out the larger vacuum that tends to stress out our animals. The Pet Hair Eraser Hand Vacuum from Bissell has a 12-minute battery life and an easy-to-empty dirt bin. $73
---
Best Robot Vacuum Cleaners
For the cleaner who wants to lighten the load on their list of chores, vacuum just by pressing a button. A robot vacuum cleaner can take care of all kinds of flooring, and some of them boast extra features, including a dual mop and vacuuming functions, smartphone enabled controls and the ability to self-empty.
Jetbot Mop with Dual Spinning TechnologySamsungJetbot Mop with Dual Spinning TechnologyPerfect for tile, vinyl, laminate or hardwood, the Jetbot Mop automatically cleans your floors with ease. $300
---
eufy RoboVac G30eufyeufy RoboVac G30By thoroughly covering your entire house with logical route planning instead of random paths, eufy's RoboVac G30 doesn't miss a spot.$370$250
---
Shark AV911S EZ Robot VacuumAmazonShark AV911S EZ Robot VacuumWelcome to deep-cleaning power with a vacuum that returns to the base, recharges, and can pick up where it left off.$500$410
---
OKP Life K2 Robot Vacuum CleanerAmazonOKP Life K2 Robot Vacuum CleanerWith four cleaning modes including Auto, Spot, Wall Follow, and Manual clean, this vacuum can pretty much cater to all your cleaning needs, and it's 54% off right now. $300$139
---
Lefant M210 Robot Vacuum CleanerAmazonLefant M210 Robot Vacuum CleanerHundreds of Amazon shoppers have given this robot vacuum cleaner a five-star rating, with former Roomba owners calling it a "serious upgrade".$200$116
---
AIRROBO T9 Robot Vacuum and Mop ComboAmazonAIRROBO T9 Robot Vacuum and Mop ComboCustomize a cleaning schedule that suits you. Different rooms can be cleaned with different suction or mopping water flow.$350$200
---
Best Upright Vacuum Cleaners
Upright vacuums are a staple of nearly every household, and for good reason. With extra tools like dusting brushes and crevice nozzles and no battery life limits, upright vacuums are undeniably reliable and offer the most control over how and when you get your cleaning done. Here are our picks of the best lightweight upright vacuums.
Shark Apex Powered Lift-Away Upright Vacuum with DuoClean and Self-Cleaning Brushroll Shark via AmazonShark Apex Powered Lift-Away Upright Vacuum with DuoClean and Self-Cleaning Brushroll This upright vacuum can deep clean both your floors and itself, all the while leaving your floors with a polished look using Shark's DuoClean technology.$420$378
---
Eureka Lightweight Powerful Upright Vacuum CleanerEureka via AmazonEureka Lightweight Powerful Upright Vacuum CleanerThis upright vacuum cleaner is lightweight and budget-friendly at under $100, and is equipped with five height settings to handle surfaces from shag carpet to hardwood. $80
---
Bissell Symphony Pet Mop and Steam Vacuum CleanerAmazonBissell Symphony Pet Mop and Steam Vacuum CleanerThis Pet Model mop and steam vacuum cleaner features an exclusive Drop-It Tank emptying system to prevent you from ever needing to get your hands dirty. $227$193
---
RELATED CONTENT:
The Best Robot Vacuum Deals: Spring Savings on iRobot Roomba and More
Amazon's Best Deals on Organization and Storage for Spring Cleaning
The Best Spring Cleaning Deals To Shop Now
Kris Jenner's Safely Cleaning Line Launched at Walmart
Tags:
how to build a mini vacuum cleaner robot