Best robotic pool cleaner of 2021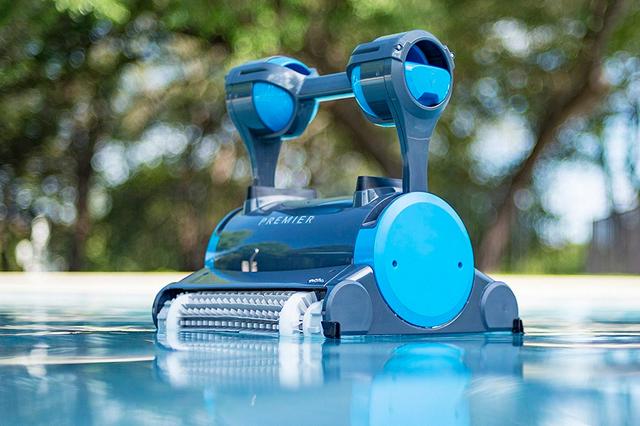 Robotic pool cleaners
On a hot summer day, there's nothing quite like lounging next to your own private backyard swimming pool, sipping an ice-cold drink and reading a good book — except a quick plunge in the water to cool off.
Enjoying your backyard oasis requires keeping your pool clean. Maintenance is no small task, and without a robot cleaner, it involves hours of manual scrubbing and vacuuming.
Advertisement
Investing in an automatic pool cleaner can be well worth the expense. The machine is equipped with its own power supply and filter media. It cleans common pool contaminants like dirt, small debris and algae without placing a burden on the pool skimmer or filtration system. Best of all, the robotic device performs its cleaning duties while you sit back and enjoy the day.
How do robotic pool cleaners work?
Robotic pool cleaners use advanced technology to achieve superior results over traditional automatic cleaners.
Advertisement
Efficient electric motors that consume minimal energy create suction to remove dirt and debris from the pool, while rotating brushes dislodge stubborn contaminants like algae. The robot cleaner uses wheels or tracks driven by a safe, low-voltage electric motor around the bottom and sides of the pool. Accumulated debris is stored in a separate filter bag attached to the cleaner and emptied after each use.
Robotic pool cleaners are built with excellent mobility, allowing them to maneuver around sharp corners, bends and obstacles with ease.
These intelligent devices offer a full range of capabilities for customized cleaning, dependent upon the model and of course, the price. Programmable models include options such as a quick clean, a thorough clean, time schedule for cleaning or specific pool sections only for cleaning. Sensors detect factors such as the pool shape and the waterline that influence the cleaning process. In addition, high-end robotic pool cleaners offer remote control operation with a remote-control device or smartphone app.
While the purchase price of robotic cleaners is higher than other pool cleaners, the more efficient cleaning and energy savings make them more economical in the long run.
Best robotic pool cleaners
Best self-sufficient robotic pool cleaner
Dolphin Nautilus CC Supreme Automatic Robotic Pool Cleaner: available atAmazon
Our take: This pool cleaner, powerful enough to clean the floor and walls of an in-ground pool 50 feet wide in less than 2 hours, operates with minimal user intervention.
What we like:The CleverClean technology maps out the pool and uses an algorithm to learn the location of obstacles such as steps and ladders.
What we dislike:No smartphone apps or remote control.
Best for leaves and large debris
Polaris Vac-Sweep 280 Pressure Side Pool Cleaner: available atAmazon
Our take: Equipped with a multifaceted cleaning mechanism and triple jets, the Polaris is suitable for scrubbing the bottom and walls of all types of in-ground swimming pools regardless of the size and shape.
What we like:The onboard filter bag is ideal for collecting larger debris like leaves, acorns, needles, pebbles and twigs. The collected items are retained for easy disposal instead of jamming the pool skimmer or filter.
What we dislike:The cloth debris bag is a challenge to clean.
Best budget robot model
Hayward TriVac 500 Robotic Pool Cleaner: available atAmazon
Our take:Ideal for in-ground pools up to 40 feet, the economical TriVac uses superior steering capabilities for a more complete clean of all types of pool surfaces.
What we like:The cleaner automatically employs the most effective cleaning pattern based on the pool size, and the AquaDrive technology uses jet propulsion to navigate the pool walls, floors and coves.
What we dislike:The cord frequently gets tangled during the cleaning cycle.
Best for above-ground pools
Hayward W3900 Wanda the Whale Above Ground Pool Vacuum: available atAmazon andHome Depot
Our take:Despite its endearing shape, the Wanda the Whale Cleaner is equipped with patented SmartDrive technology designed to efficiently clean the bottom only of various shapes and sizes of above-ground pools.
What we like:The cleaner uses a turbine to pull up water and debris from the bottom of the pool, sending them up the hose and into the skimmer system.
What we dislike:The oval-shaped suction opening is too small to pick up larger debris.
Best for cleaning pool bottom, wall and waterline
Dolphin Premier Robotic Pool Cleaner: available atAmazon
Our take:The Dolphin not only cleans the pool bottom, but also scrubs the wall and waterline using state-of-the-art mapping technology and multiple layers of filtration to collect debris of different sizes efficiently.
What we like:The oversized debris bag and four unique types of filter media capture leaves and larger debris in pools up to 50 feet long.
What we dislike:Lacks "smart" features.
Best energy efficiency
Hayward TigerShark Robotic Pool Vacuum: available atAmazon
Our take:Smart technology guides the energy-efficient vacuum over pool floors and walls to completely clean a large pool up to 20 x 40 feet in size in 90 minutes.
What we like:A door on the top of the unit permits easy access to the filters for a quick rinse with a hose, and the cleaner comes with a caddy cart for easy handling and storage. An onboard sensor prevents the device from exiting the water when scrubbing tile at the waterline or approaching the shallow end of the pool.
What we dislike:The cord is too short, occasionally pulling the cleaner off of its path.
Best for vinyl pool surfaces
Polaris F9550 Sport Robotic In-Ground Pool Cleaner: available atAmazon
Our take: The 9550 Sport uses Aqua-Track tires to clean all surface types, including vinyl pools.
What we like:A rear propulsion system moves the cleaner from one end of the pool to another and uses ActivMotion Sensor Technology for efficient cleaning. It scrubs the floor, walls, steps and the tile line of pools up to 60 feet in length with a pleated scrubbing brush in as little as 1.5 hours. In addition, the robotic machine is designed to navigate tight corners and stairs.
Advertisement
What we dislike:The device is heavy to lift out of the pool.
Advertisement
Best for small flat-bottomed pools
OT QOMOTOP Robotic Pool Cleaner: available atAmazon
Our take: A budget machine for small flat-bottomed pools with less than a 15-degree slope and shallower than 6.6 feet.
What we like:The cleaner produces excellent suction and uses two pathways to collect dirt, grime and debris efficiently. The cordless device eliminates the nagging cord tangling issue of many other robotic pool cleaners.
What we dislike:The unit must be pulled out of the pool and left to dry before hooking up the charging cord.Jeff Harper is a writer for BestReviews. BestReviews is a product review company with a singular mission: to help simplify your purchasing decisions and save you time and money.
BestReviews spends thousands of hours researching, analyzing and testing products to recommend the best picks for most consumers. BestReviews and its newspaper partners may earn a commission if you purchase a product through one of our links.
Distributed by Tribune Content Agency, LLC.
Advertisement
Latest What to buy
Advertisement
Most Read
Jussie Smollett walks out of Cook County Jail after court orders his release pending appeal of conviction, 150-day sentence4h
Ask Amy: Couple drops the 'P-bomb' on their folksMar 7, 2022
Lonzo Ball and Patrick Williams are on target to return — but Chicago Bulls won't count on them to save the seasonMar 15, 2022
Tags:
which voltage power supply for robotic cleaner