Ecovacs's Deebot N8 Pro robot vacuum offers premium features at a lower price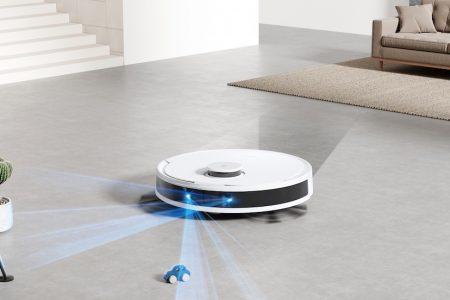 Ecovacs Robotics has launched its brand new Deebot N8 Pro which delivers the premium features of the flagship models but at the attractive mid-tier price of $799.
These features include avoiding obstacles, strong suction power for higher quality cleaning, TrueMapping and navigation technology as well as the ability to not only vacuum but also mop at the same time.
The inclusion of these features in a robot vacuum of this price like the Deebot N8 Pro shows just how far the technology has come in a very short time.
"When we entered the Australian market almost four years ago, we were stunned to learn how many people had a negative perception regarding the effectiveness of robotic vacuum cleaners," says Karen Powell, Head of Ecovacs Robotics in Australia and New Zealand.
"We were determined to turn this around and by launching the Ecovacs Deebot robot vacuums, packed full of the latest innovations and critical new technologies could truly bring convenience into people's lives,"
"The Deebot N8 Pro epitomises our determination to change people's minds and break down notions of what is possible.
"It delivers premium features that not long ago were seen on our high-end products, in a package that is more affordable than ever before.
"We will continue to innovate and demonstrate how robot vacuums are now easy to use, deliver a deep clean and provide a very real convenience, especially to those many Australians who we know vacuum more than a few times every week."
The Deebot N8 Pro certainly does bust a few myths for those who are sceptical about the product's cleaning capabilities.
First up is the myth that suction power is sacrificed in robot vacuum cleaners.
The Deebot N8 pro has a new pressure retention system that offers energy efficiency and high vacuum pressure but with a low noise level.
It also has a Max+ mode where suction powers increased by up to 2600 Pa to deliver even better results.
The main brush comes with the latest suspension design which can clear out any dust that's lodged in deep cracks.
A complete clean of your home involves not only vacuuming but also mopping as well and the N8 Pro can do both.
On the mopping side, it has an electronically-controlled water pump and water tank so it can efficiently clean the whole house without the need for repeated stops to top up the water level.
It has been proven to remove more than 99% of tested bacteria.
The unit will automatically turn on mopping mode when the mopping plate is installed and users are able to manage the water level through the Ecovacs Home app.
One thing that stops customers buying a robot vacuum cleaner is the worry that they will get stuck or blocked, especially if there are objects on the floor.
The Deebot N8 Pro uses 3D structured light technology and a scanning algorithm so the robot can scan the surroundings with surprising precision and detect even the smallest obstacles.
This means they can avoid collisions and won't get stuck or tangled if things like shoes, cables and toys are left on the floor.
It can scan an accurate 3D image of space and objects down to the millimetre level with object detection now 10 times more accurate than traditional infrared technology.
The N8 Pro can even scan dark surfaces and recognise dark coloured furniture and interact with dark coloured carpets.
Another myth is that robot vacuum cleaners miss spots and don't clean as efficiently as a handheld vacuum.
The N8 Pro has TrueMapping laser-based mapping and navigation technology onboard so we can create maps of your floor plan in seconds so it can intelligently navigate your home and choose which rooms and floors to clean using the most optimum path for each level of your home.
TrueMapping uses laser detection and has doubled the distance recognition capabilities of previous models as well as a four-fold improvement in object recognition.
There is a virtual boundary function that can be controlled using the Ecovacs Home app which gives owners the ability to restrict the robot from entering specific areas of your home.
Another myth is people thinking you need to be home to monitor the robot vacuums clean.
users can actually plan and monitor the cleaning remotely through the app.
It's possible to schedule cleaning at any time as well as customise a cleaning path for each room, switch cleaning modes and save multi-floor maps.The Deebot N8 pro goes on sale on July 20 and will be priced at $799 from Godfreys, JB Hi-Fi and The Good Guys.
The Auto Empty Station, which allows the robot to empty it's dustbin on its own, is also available separately now for $399 from Godfreys, JB Hi-FI, AmazonAU and eBayAU.
Related Posts
Tags:
how to create floorplan for samsung robotic cleaner