Pool Cleaning Basics: How To Properly Clean A Swimming Pool Pool Cleaning Basics: How To Properly Clean A Swimming Pool
Owning a swimming pool means happiness is just a few steps right there in your backyard. On the flip side, it also means you have to work hard to keep it clean because, let's face it, no one wants to hang out in a dirty, murky pool.
Pool owners usually have two options: First is to hire a professional pool cleaning service, and the second is to do the job themselves. If you can afford the first option, then hey, you should absolutely go for it! But if not, you should know the basic care in swimming pool maintenance.
Why Clean the Swimming Pool
This sounds like a silly question, but it deserves an answer. Some pool owners think adding chlorine and other sanitizing chemicals is enough to do the job, but it's not. Chlorine is essential in your pool's upkeep, but scrubbing floors and skimming leaves are way beyond its job description.
In time, foreign objects like bugs, leaves, sand, twigs, and pebbles make their way into the pool. As good as chlorine is, it can't gate-keep the pool forever. It needs a more powerful cleaning source, and that source is you.
Without question, cleaning your pool is an absolute necessity for pool owners. It is one of those things that are truly non-negotiable.
Things That You Need
Making sure that you have the right equipment is winning half the battle. Without these supplies, there won't be any meaningful pool cleaning work that's going to be done.
1. Telescopic Pole
If there's an apparatus you'll be holding half the time you're cleaning the pool, it's the telescopic pole. This rod does not do the cleaning per se, but it connects to an assortment of other pool cleaning tools such as vacuum heads and skimmers. A telescopic pole may be adjusted to different lengths. For instance, the standard 8-foot pole could extend to 16 feet, so you can conveniently reach any nook and cranny of the pool.
2. Pool Brush
What do you need a brush for? To brush things with, of course. And in a swimming pool, you've got a lot of structures to brush — patio, ladders, steps, and walls. A pool brush is attached to the end of a telescopic pole, and you're ready to go to work.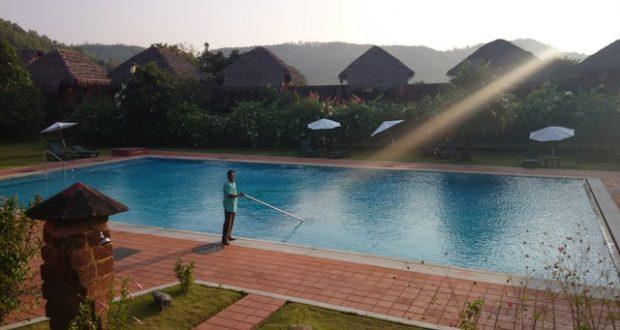 However, you need to remember that pool brushes are not created equal. You must select something depending on what material your pool is made of. Brushes with bristles made of nylon and stainless steel are perfect for concrete and gunite. If your pool is made of vinyl or fiberglass, then nylon would do just fine.
3. Skimmer Net
A skimmer net is one of those pieces of equipment that you attach at the end of a telescopic pole. You use it to collect debris on the pool's surface, ranging from leaves, twigs, and every foreign object that floats on top.
Skimmer nets come in two varieties — a flat skimmer and a bag skimmer. Flat skimmers are the regular skimmer net to use, especially if you don't have much going on on the surface. On the other hand, if debris and leaves swarm the pool's surface like locusts, you should use a bag skimmer. It's harder to empty, but it holds a bigger volume of debris.
If manual skimmers prove too much of a hassle, another option is to invest in automatic pool skimmers. These machines provide help to remove the leaves effortlessly while also helping the pool's pump system work more efficiently.
4. Pool Vacuum Cleaners
Skimming the surface for debris and brushing off accumulated algae off walls and floors is not going to cut it. Imagine this: If you're brushing dirt and algae off the pool ladders, where will all the grime go? They will all sink down and settle at the bottom. Now, how are you going to clean all of that gunk stuck at the bottom? Vacuum cleaners!
Here's the deal, with pool vacuum cleaners, you've got two options: manual and automatic vacuum cleaners. A manual vacuum cleaner, surprise surprise, is attached to the telescopic pole. It has a hose connected to the filter tank suction port to get rid of the dirt it sucks in.
On the other hand, automatic pool cleaners move and clean across the pool, collecting debris and sediments. Automatic pool cleaners come in three types — suction-side, pressure-side, and robotic. Suction-side cleaners are cheaper, but they use the pool's filtration system to operate.
Robotic pool cleaners do the work autonomously and are widely recommended because of their efficiency. Manually vacuuming the pool could take at least an hour, not to mention the skimming and brushing you have to do beforehand. Many robotic pool cleaners could clean walls and floors and are highly energy efficient. Imagine all the time and money that you can save just by using these wonderful machines!
5. Chemicals and Testers
Pool water needs pH testing every once in a while. Chances are, when you notice the water changing colors, its pH levels are either too high or too low. In such cases, you can add a pH reducer or increaser and pretty much go back and forth until you arrive at the desired range of 7.2 to 7.8.
Another needed chemical that must be present in your pool is chlorine. It is the main chemical used to sterilize or clean pool water. You could use chlorine in powdered, liquid, or tablet forms.
The Real Deal: Steps in Cleaning the Swimming Pool
After a quick inventory of the things that you need, then you are ready to do the real heavy lifting. Here is how you should do it.
1. Skim leaves and other debris off the surface
It's wise to start cleaning the swimming pool by removing the leaves, twigs, foliage, and other debris floating on the pool's surface. It is the most basic maintenance procedure and should be part of the pool's daily cleaning routine. If you use automatic pool skimmers, this is a non-issue, but if you don't, there is no choice but to do it manually.
2. Brush walls, steps, and visible surfaces
Again, it would be an absolute time-saver if you have robotic pool cleaners that can do this. If not, then you could just do this step manually. The point is to clear the surfaces off debris so that it will fall into the water where the vacuum cleaners could pick it up.
3. Vacuum the pool floors
If you find gunk and grime building up on the stairs and visible surfaces, chances are you will find more on the pool floor. That's why vacuuming the floor is very important. It is essential to include vacuuming in the weekly pool cleaning routine, but don't hesitate to do it more if needed. If you're using a manual pool vacuum cleaner, be sure not to skip the hard-to-reach areas and lock in on areas that look dirtier than the rest.
4. Clean your equipment
Brushes and skimmer nets are the front liners in battling debris, so make sure you clean them after use. Also, check the pool filter for any blockages and clean it accordingly.
5. Bring the pH to an acceptable level and sanitize
If there is a considerable amount of debris in the pool, chances are it has already messed up your pool's pH levels. This is where you should test your water and then use the reducer or increaser to bring the pH levels to an acceptable range. After doing this, you should put chlorine in the water for sanitation purposes and to prevent algae buildup. Ensure that you follow the proper procedure on the label.
Conclusion
Owning a pool is fun and all, but you have a considerable price to pay since pools need daily and weekly maintenance. You should skim the pool surface for solid debris, brush the walls, vacuum the floor, balance pH levels, and make sure it's sanitized. All of that needs diligence and hard work.
Still, while cleaning is a "considerable price to pay," you cannot put a value on your family's safety and others. An unclean pool is a breeding ground of disease-causing bacteria that jeopardizes the health of everyone. You can always choose to bring reinforcements in the form of robotic pool cleaners or automatic skimmers, but that's a story for another day.
Do you have a news tip? Call us at (661) 298-1220, or send an email to newstip@hometownstation.com. Don't miss a thing. Get breaking KHTS Santa Clarita News Alerts delivered right to your inbox. Report a typo or error, email Corrections@hometownstation.com
KHTS FM 98.1 and AM 1220 is Santa Clarita's only local radio station. KHTS mixes in a combination of news, traffic, sports, and features along with your favorite adult contemporary hits. Santa Clarita news and features are delivered throughout the day over our airwaves, on our website and through a variety of social media platforms. Our KHTS national award-winning daily news briefs are now read daily by 34,000+ residents. A vibrant member of the Santa Clarita community, the KHTS broadcast signal reaches all of the Santa Clarita Valley and parts of the high desert communities located in the Antelope Valley. The station streams its talk shows over the web, reaching a potentially worldwide audience. Follow @KHTSRadio on Facebook, Twitter, and Instagram.
Tags:
how to choose robotic pool cleaner