Samsung Jet 60 Pet review: A solid mid-range stick vacuum… if you don't have pets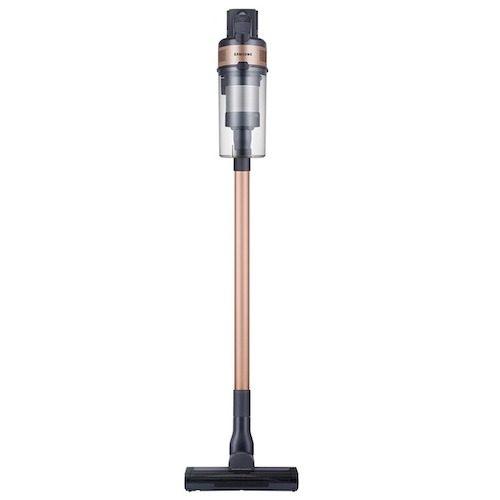 Stick vacuums are all the rage. Everyone has gotten aboard the stick train and it feels like there's no turning back. The Samsung Jet 60 Pet is an entry-level offering in Samsung's stick vacuum line-up. The design is similar to its more expensive siblings but pares back a bit on power, accessories and batteries.
---
Design
Image: Angharad Yeo/Finder
After removing a slew of plastic wrap from the unit and accessories, the Jet 60 Pet is easy enough to set up. Things click together in a straightforward manner – the only minor issue I had was figuring out how the power cable threaded into the wall dock. It was just a bit hidden.
At first glance, the Jet 60 Pet is virtually indistinguishable from its Jet brethren, save for its colouring. Personally, I like the gold trim on the 60 the best – it feels bright and classy. And it helps to have an attractive vacuum if it's going to be visible when wall-mounted with the accompanying dock.
There are no real bells and whistles on the Jet 60, with most of the resources being put towards vacuum functionality. The design choices are solid and I don't feel much longing for added extras.
You get an on button and 2 buttons to increase/decrease suction power. I do like the on/off design, which is less tiresome than a trigger.
The unit is quite lightweight at 2.3kg. The body is also slim and compact, making it easy to use for "dust busting". It is a little front-heavy, but the handle cradles into your hand very nicely, feeling firm and ergonomic.
The Jet 60 feels durable and solidly built. It scuffed up easily, but to me that's just the nature of a vacuum. You're going to slam into the skirting board eventually, and I am a walking stress test.
The connections feel solid, albeit sometimes a little finicky to click together right as the main body has a tube that needs to be fitted into the attachment. The main area where I feel the design is maybe a bit too pared back is the Jet Fit brush, which we'll delve into later.
My other issue with the design rings true across the entire Samsung Jet range – the dustbin. It's finicky to remove and reattach thanks to a lock-in system that just doesn't go on that easily. Plus it has a hole in it from which debris can fall when you remove it.
You also need to put down the detached vacuum body to open the dustbin to empty it. The whole thing makes me feel like a fumbling, bumbling infomercial person.
However, the dustbin, filter and multi-cyclone system are all washable, which is a plus. Other than the filter, these elements aren't a main concern to me in terms of maintenance, but it's nice nonetheless.
The accessories are pretty basic: a mini motorised tool, combination tool and extension crevice tool. It's enough to cover you for most jobs. However, I did find the mini motorised tool had quite a bit of difficulty sweeping up hair, or providing suction over curves, such as a car seat.
On the flip side, I'm extremely into the extension crevice tool. It's just that extra edge you need when battling dirt behind a shelf or when trying to vacuum up a fly that's high on a wall.
---
Samsung Jet 60 Pet performance
Image: Angharad Yeo/Finder
As is expected from a brand's entry-level offering, the suction is adequate but not spectacular. It cleans the visible dirt from the floor well. However, it struggles with dirt in harder-to-reach places, such as roller door tracks that you can't get all the way into and create a seal. It's also prone to leave behind some scuzz on more difficult surfaces such as carpets and cars.
In testing, I vacuumed my carpeted hallway with the Jet 60 Pet on max, then immediately again with the Samsung Jet 90 Complete on max. Below is what the Jet 90 managed to pick up, showing what you're missing without the extra suction power.
Image: Angharad Yeo/Finder
I then went over the hallway again with the Dyson V15 Detect – my gold standard in suction power and vacuums in general – on Auto. The results speak for themselves:
Image: Angharad Yeo/Finder
Of course, these are all vastly different price points, with a jump of almost $500 between them. But it's worthwhile to know what that extra cost gets you in terms of performance. If you only have hard floors you might have a better time, but as a dual-purpose floor attachment the Jet Fit brush doesn't give the best results on either.
Honestly, the Jet Fit brush is a real sticking point for me – it was a major let-down with the Jet 60. Using it is mildly unpleasant. It feels a bit cheap and suctions itself to the carpet too much, making it difficult to manoeuvre. It's not as bad as some extremely basic vacuums I've tried before, but it's noticeable.
However, my major gripe is the brush bar. It's almost offensive to put "Pet" in the name of the product when it deals this poorly with actual pet hair. This is an image of the Jet Fit brush after 1 go around my carpeted 2-bedroom apartment, and there is really only 1 way to describe it: unholy.
Image: Angharad Yeo/Finder
Again, this was after 1 single vacuum of the house. I know my dog is a 24/7 flower girl for hair. However I vacuum very regularly, and this is an alleged "pet" vacuum! Unless they meant it was made from PET plastic, but that's an even more mind-boggling naming convention.
Cutting hair out of things is the main kind of maintenance I find vacuums need, and oh boy does this one need it. Not doing so reduces the performance of the vacuum, and can lead to a tangle so great that not even the mighty forces of Gondor can undo it. This mere fact alone would make me hard pass on the Jet 60. Buying a different floor attachment also isn't viable. With the combined cost you may as well get a Samsung Jet 70 Complete that already comes with 2 upgraded floor heads.
Unfortunately, the Jet 60 is also quite a let-down on car cleaning. Even on max power I still couldn't adequately remove loose sand with the mini motorised tool, let alone pet hair. I do think this is partially the mini motorised tool's fault, as its rubberised design didn't quite sweep dirt into the unit. It seemed to struggle to get adequate contact to improve suction.
Even working an entire battery's worth in 1 footwell still left me unsatisfied. You can chalk this 1 up to me being a clean freak if you like, but if I'm there to vacuum I want it to feel vacuumed. Plus, it's tough work going back and forth to try to get a good clean, and the 2.3kg of weight starts to feel much heavier after a while.
Samsung Jet 60 Pet battery
Image: Angharad Yeo/Finder
The Jet 60 Pet has a modest battery, with claims of 40 minutes on minimum power. I have never felt possessed to waste my time vacuuming on minimum as the suction is insufficient. Perhaps if you had several indoor basketball courts to clean it would be of use.
On maximum power, Samsung lists the run time at 5 minutes. In testing, I got around 6–6:40 minutes fairly consistently. You'd be surprised how much you can get done in 6 minutes, but it's certainly not enough time to vacuum a whole car. I would also expect that this time drops as the battery ages.
On medium power the story is the same, with my tests coming in a hair above the advertised 20 minutes at about 22 minutes. I found medium satisfactory for leaving the house clean in most instances, but again not enough for car cleaning.
Charging also takes 3.5 hours from zero to 100%, so make sure you put it back on charge after use. The batteries easily click in and out should you choose to run a spare, but they can only be charged in the dock 1 at a time. They're also decently expensive.
---
Should you buy the Samsung Jet 60 Pet?
How we score our reviews
I'll be honest – this was a bit disappointing. A large problem is that it's advertised as a pet vacuum, yet doesn't cut it at that difficult task despite the price. The Jet Fit brush also doesn't feel up to scratch with how good the rest of the unit is. But for a simple stick vac it's everything you should expect and functions quite nicely. And it's compatible with Samsung's suite of accessories if you were inclined to drop the money on something like the Clean Station.
If you're interested in other Samsung vacuums we also have full reviews of the Jet 70 Complete and Jet 90 Complete.
---
Samsung Jet 60 Pet pricing and availability
Price
RRP: $479.00
Where to buy
Check availability at eBayCheck availability at Amazon
Buy at Bing Lee
---
How we tested
The Samsung Jet 60 Pet was tested in a 2-bedroom, low-pile carpeted apartment with tiles for hard floor testing. The apartment was inhabited by 2 long-haired people, a long-haired dog and a cat. The vacuum was also used for car cleaning. Testing was done over a period of several weeks with daily vacuuming. Yes, I vacuum every day and you should too.
---
Specifications
Dimension (WxHxD) 250x1120x203mmWeight (Net) 2.3kgBattery Type Li-ion Detachable BatteryYes Voltage 21.6VCharging Station2-in-1 wall-mount chargerBody ColourCotta blackSecondary colour Gold Digital Inverter Motor YesMax Consumption Power410WRunning Time (max mode)5minRunning Time (min mode)40minDustbin Capacity0.8L
---
Images: Finder
More Finder reviews
Tags:
how to clean cyclone unit on samsung robot cleaner