Samsung Kickstarts 2022 With Galaxy S21 FE, Portable Projector And More In Singapore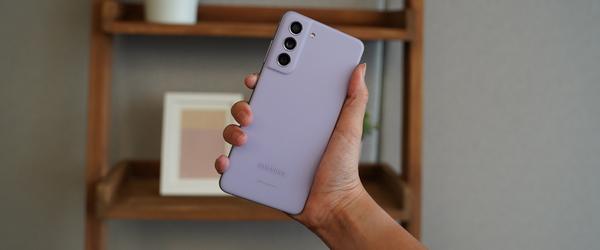 Earlier today, Samsung released and announced a bunch of new products that will finally reach Singapore's shores as part of their #OneSamsung Showcase. From the small, personal electronic devices to the bigger home and living smart products that will make your life easier, here's a roundup of all the tech that Samsung fans can expect to see in stores, and hopefully, in their own homes.
Joining the Samsung Galaxy lineup is the Samsung Galaxy S21 FE 5G. The new S21 FE continues the S21 legacy with a premium, signature design. This series comes in different colour options for fans who love to express themselves colourfully.
Coming in Olive, Lavender, White and Graphite, the S21 FE 5G features a sleek and slim 7.9mm thick-body and is equipped with a 6.4-inch FHD+ Dynamic AMOLED display. The phones house a 12MP Wide Camera, a 12MP Ultra-Wide Camera, a 8MP Telephoto Camera, 30x Space Zoom and a 32MP Selfie Camera. Just like the S21, the S21 FE 5G also uses a 5nm 64-bit Octa-Core processor.
The S21 FE 5G currently retails for S$978 (128GB) and S$1,048 (256GB) and will be available in Singapore from 11 January 2022. Customers who purchase the Galaxy S21 FE 5G from 11 to 31 January will be gifted with a complimentary Galaxy Buds 2 (worth S$248).
If you're not looking to replace your current phone, then maybe the new Galaxy Tab A8 may catch your eye instead. The Galaxy Tab A8 boasts an expanded 10.5-inch screen, slim bezels and a 16:10 common aspect ratio. Compared to the Galaxy Tab A7, the A8's CPU and GPU have been increased by 10% to deliver faster, smoother performance without lagging. The Tab A8 comes in 32B, 64GB and for the first time, 128GB of storage.
Highlight features of the A8 include the ability to split screens and use two apps concurrently with Multi-Active Window and the brand new screen recording feature with various audio recording options.
The A8 comes equipped with a rear 8MP and Front 5MP camera, as well as an Octa-Core 2GHz processor. It comes in Gray, Silver, and an all-new stunning colour, Pink Gold.
Probably the most exciting announcement for film lovers is The Freestyle. A portable projector, smart speaker and ambient lighting device all in one, the Freestyle displays a crystal clear image on any surface at any angle. It can rotate up to 180 degrees and features 360-degree sound, giving users a cinema-quality sound experience no matter where they are, regardless of where the image is being projected on – the table, the wall, the ceiling, wherever!
The Samsung Galaxy Tab A8 will be available sometime in January 2022.
Weighing at only 830 grams, the Freestyle is portable and can be brought out of the home if need be. It is also the first portable projector that offers Smart TV features and voice control. When not used as a projector, it can provide mood lighting thanks to its ambient mode or be used as a smart speaker.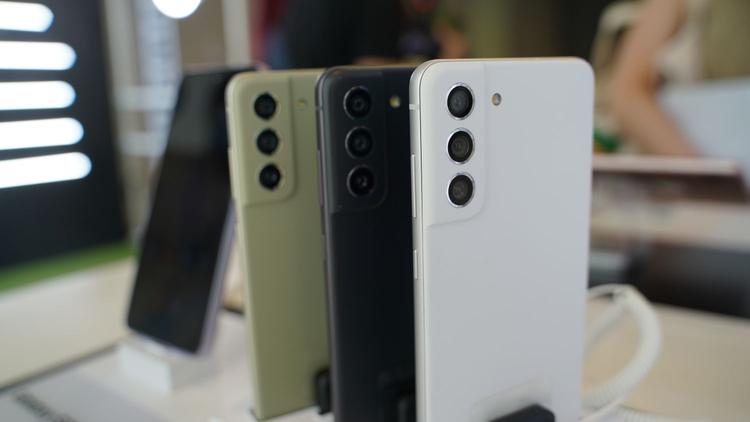 The Freestyle will launch in the US on 4 January, with availability expanding to other global markets in the following months.
On to bigger launches, Samsung is bringing the BESPOKE Jet with All-in-one Clean Station to Singapore. The newest addition to the Samsung Jet Series, the new vacuum comes with a selection of upgraded attachment tools and a clean station where users can recharge and empty the dustbin of the BESPOKE Jet at the same time. It comes in two colours, Woody Green (S$1,499) and Misty White (S$1,299) and is fitted with a black LCD screen that informs its user when it needs to be recharged and when there's an item choked in the machine.
The BESPOKE Jet comes with a multi-layered filtration system that captures 99.999% of fine dust and allergens. Its main cyclone and metal mesh grill filter are capable of trapping big dust particles while the Jet Cyclone, microfilter and fine dust filter can effectively capture micro dust. The whole bi, multi-cyclone system and its filters are also fully washable, which helps keep the vacuum easy to maintain.

The BESPOKE Jet with All-in-One Clean Station will launch end January 2022.

Last, but certainly not the least, is the Samsung AirDresser (S$2,499). The Samsung AirDresser is a steam laundry appliance that allows consumers to sanitise clothing or even common household items that are hard to clean such as toys, cloth masks and beddings.

The AirDresser steams, airs, dries and freshens up your clothes for you with the touch of a button. The AirDresser's powerful steam penetrates deep into fabrics and removes 99.9% of bacteria and viruses. The JetAir system enables it to blow strong jets of air upwards and downwards to loosen up and remove any dust on one's clothes and items. In addition, the AirDresser has three AirHangers, all designed to allow air to travel through both the inside and outside of the garments.

The plus point has to be the built-in deodorising filter that effectively eliminates odours that stay on clothing such as sweet, smoke, tobacco, meat and other musty odours. However, please don't treat the AirDresser as a washing machine.

The Samsung AirDresser is now available on the Samsung Online Store and major consumer electronics and IT stores. Customers who purchase the AirDresser from now until 31 January will receive a complimentary Samsung Smart Air Purifier (worth S$649).

A'bidah Zaid

Don't judge a book by its cover, for behind all this makeup, is a geek just like you. To simply put it, superheroes, Star Wars, Harry Potter and all things gore and creepy makes this girly girl swoon.
---

Drop a Facebook comment below!
---
2022 AirDresser BESPOKE Jet Galaxy Tab A8 samsung samsung galaxy s21 Samsung Galaxy S21 FE 5G Samsung Galaxy Tab The Freestyle
Tags:
how to clean cyclone unit on samsung robot cleaner