Should you buy a flat-pack kitchen from Ikea or Bunnings?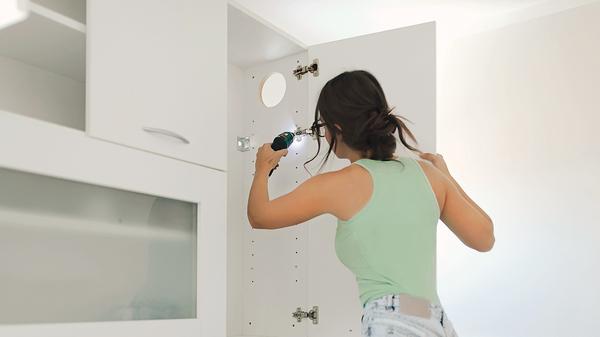 Need to know
According to the Housing Industry Association (HIA), the average cost of a kitchen installed as part of a renovation is $26,280.
So it's little wonder that many budget-conscious renovators consider buying a flat-pack kitchen in an effort to save money on labour by doing it themselves.
Flat-pack kitchens are an alternative to a custom-built kitchen, which is where a professional (with experience, contacts and expertise) designs your kitchen to your specific requirements and coordinates the project for you.
You can buy flat-pack kitchens from major retailers such as Bunnings and Ikea, and they come in an impressive variety of styles and finishes.
But even though they're designed and marketed as a 'do-it-yourself' option, you need time and skills to assemble and install it yourself.
So is a flat-pack kitchen the right option for you? We look at the pros and cons.
How much does a flat-pack kitchen cost?
The cost of a budget-friendly flat-pack kitchen renovation can vary considerably, depending on the style, layout, number and size of cabinets and drawers, finishes, hardware and essential trades you choose.
To give a rough guide, we looked at a small L-shaped flat-pack kitchen from Bunnings with space for a microwave, dishwasher and oven, and broke it down into its individual components. We then compared the cost of each component (excluding sink, taps, microwave box, and appliances) to its closest equivalent at Ikea.
How did they compare?
Both stores have a wide range of front styles with different colours and materials, so you may be willing to pay more if you have a strong preference for a style on offer at one or the other.
Note: Ikea's drawers are metal-sided. With a Bunnings kitchen, you'd have to upgrade for drawers like this, further adding to the cost, and Ikea's wall cabinets use a suspension rail to help mount them to the wall, while the Bunnings cabinets are screwed directly into the wall.
With so many variables for flat-pack kitchens it can be difficult to compare prices.
Styles and customisation
Both stores offer many options to style your kitchen to your taste.
Ikea is well-known for its basic modular-style flat-pack kitchens, with 21 front styles in various colours and materials.
"Ikea's modular system provides over 15,000 different style combinations, which allows customers to mix and match their different cabinet sizes to fit their space and then to select a door or drawer front to suit their chosen style," Daniel Hood, business leader for kitchens and appliances at Ikea Australia, tells CHOICE.
Similarly, Kaboodle Kitchen, sold through Bunnings, has many styles and modular size options, but also offers customers a 'cut-to-measure' service – at an additional cost. This lets you adjust the width (not height) of selected doors, panels, benchtops and splashbacks to fit your space.
Quality of materials
Even though there's a multitude of styles and finishes to choose from, the materials used for flat-pack kitchens are standardised across the range for each retailer.
"Kaboodle Kitchen cabinets are made from a combination of particleboard and MDF, and hinges and essential hardware are from [China's] DTC and [Germany's] Hettich," says Briony Mikrou, marketing communications manager at Kaboodle Kitchen.
Similarly, Ikea cabinets are made from particleboard and melamine, and use the German brand Blum for its hinges and drawers.
"Getting the layout right is really important to maximise space and functionality," says Kaboodle Kitchen's Briony Mikrou.
Designs
The design of your new kitchen should not only look good but be functional. Bunnings and Ikea both have instore and online 3D planning tools to help non-professionals design a kitchen, and they offer advice on how to make the most of your space.
"Getting the layout right is really important to maximise space and functionality," says Mikrou. "Consider a layout that works best for how you intend on using the kitchen to ensure a future-proof design."
If you're not confident of your kitchen design skills, both stores offer expert help for a fee. Ikea has instore advice from kitchen specialists for $99, or you can book a home visit for $149. Bunnings has an instore service for $49 or a home visit for $99, redeemable off the kitchen purchase.
CHOICE tip: You can save money by keeping your original gas and electrical fittings where they are, but this may limit your design options.
Buying process
Once a flat-pack kitchen's measurements have been checked, the design configured and style chosen, all of the kitchen's components – drawers, cabinets, cupboards, hardware – are selected and ordered.
Ikea offers several ordering options: "You can order your kitchen directly with Ikea or, for a second opinion or peace of mind, book an appointment at an Ikea store or online with one of our kitchen specialists to go through your plan to ensure you have everything you need and assist you with the order," Ikea's Daniel Hood says.
Ikea's kitchen components are generally readily available. "You can opt for home delivery straight to your door or pick up your order directly from the store," adds Hood.
The process is similar at Bunnings: "If guidance is needed, customers can book an appointment with a Bunnings instore kitchen expert, or an in-home consultation, for assistance to create and finalise their design and product order," says Mikrou.
Your order can either be collected from your local Bunnings store or delivered to your home.
Installation
You'll save a lot of money on labour installing your own flat-pack kitchen. If you're handy with a hammer, know how to use a cordless drill and feel confident operating a jigsaw, by all means give it a crack. There are myriad resources from manufacturers online that you can reference for advice and instruction.
But, as Hood warns, installation isn't for everyone.
"For people short on time, or who'd find a big project like installing a kitchen daunting, employing a professional might be the best option," he says.
If you're handy with a hammer, know how to use a cordless drill and feel confident operating a jigsaw, by all means give it a crack
Mathieu Griveau, owner and director at Sydney's FlatPack Installer, says there are a number of reasons why people choose a contractor to install their flat-pack kitchen rather than go it alone.
"With kitchen design, what works on paper doesn't always work in real life," he says.
"Surprises can occur once old kitchens are removed ... you may realise you can't move your plumbing and need to keep the sink in the same place, or your wall and floor surfaces are uneven. A professional can help navigate these last-minute changes."
Hiring a professional can eliminate any installation or functionality issues.
The cost of using a contractor to install your flat-pack kitchen will vary, depending on the scope of your kitchen renovation and whether you employ their expertise in the initial design as well as installation.
"The average cost for installing a flat-pack kitchen is around $2800, plus plumbing (approximately $800) and electrical work (approximately $800), totalling about$4500–5000," Griveau says.
A DIY flat-pack kitchen assembly and installation may prove to be a lengthy process, depending on how much time you have to contribute to the project and any unforeseen issues that arise. Being without a working kitchen in the meantime can be challenging. For homeowners living on the premises, a quick renovation might be preferable.
If you decide to outsource installation, see our advice on how to find a good tradie. Ikea customers can also request installation quotes from registered tradespeople on the Ikea website through their partnership with Hipages.
Hooking up your sink and dishwasher should be done by a licensed tradie.
What can't I DIY?
Even though you can save money assembling and installing a flat-pack kitchen yourself, some tasks must be completed by a licensed professional and that will need to be factored into your budget.
There are things you either aren't legally allowed or shouldn't do yourself. Hooking up your sink and dishwasher to existing plumbing (or installing new plumbing to suit your new kitchen layout), along with electrical work and gasfitting, should be done by licensed, skilled and experienced plumbers and electricians.
Using tradespeople who are registered, licensed and have the correct insurance means you're covered if something goes wrong, but if you DIY and make a mistake the responsibility will fall entirely on your shoulders.
There are things you either aren't legally allowed or shouldn't do yourself
Even if you're not making any alterations to the original electrical and plumbing positions, you'll still need a licensed tradesperson to hook you up.
"Many people struggle with coordinating and understanding the process of organising the multiple trades needed to complete their kitchens; the timeline that applies to each trade and in what order they need to occur," says Griveau.
"For example, plumbers and electricians need to do a rough-in after the removal of the old kitchen and before installation of any new cabinets."
Read more about home renovation projects you shouldn't do yourself.
Additional costs and considerations
Longevity and guarantees
Ikea's kitchen cabinetry and benchtop ranges come with a 25-year guarantee.
The Kaboodle Kitchen cabinets from Bunnings have a 10-year structural warranty and are also covered by 'Lifetime Advantage', which means this warranty is extended for the entire time you own and live in your home.
Case study 1: Flat-pack success – with some help
Netty and her family had recently bought a Federation-style cottage from the 1880s with an outdated kitchen that they wanted to spruce-up.
"The kitchen was a long, narrow space with lots of lovely windows overlooking the garden," she says. "We needed to renovate as all the old cupboard and drawer doors were beyond repair – we'd resorted to curtains!
"My most important consideration was functionality. We couldn't do much with the space, so I wanted to maximise storage and for the style to blend in with the other renovations we were doing. I also particularly wanted as many drawers as I could, as I think kitchen cupboards aren't a great use of space."
It wasn't so much a choice as a necessity – we simply didn't have the skill set to install a kitchen
Short on cash, Netty decided on a flat-pack kitchen.
"Price was definitely a factor. We had quotes for a custom kitchen and it was twice the price. Because we were doing a really large, full-house renovation at the same time, we decided on the cheaper option."
Feeling ill-equipped to do the renovation herself, Netty decided to contract a professional to assemble and install it for her.
"It wasn't so much a choice as a necessity – we simply didn't have the skill set to install a kitchen. Also, being a very old house there wasn't a straight line anywhere, so the installation required an expert," she says. "Fortunately, our builder had installed a few flat-pack kitchens of various shapes and sizes before so he knew what he was doing."
Netty says she was thrilled with her flat-pack kitchen and was very happy with the end result.
"I have no regrets at all!" she says. "From my experience, my advice to others choosing to go with a flat-pack kitchen is to get your builder to do it for you."
Case study 2: Installation frustration
When Graham decided to renovate his 35-year-old home, his budget was tight, so DIY assembly and installation of a flat-pack kitchen was his best option. He opted for a kitchen professional to do an in-home visit first.
"He did a thorough job – measured up the existing place, got my views on what I wanted, made some suggestions, looked at ways to trim some of the costs, explained a few things, generated a few renders of the finished kitchen, and produced a list of required products with costs. It was 90 minutes well spent," Graham says.
After delivery, the existing kitchen needed to be demolished. "That meant getting an electrician and plumber out to disconnect all of the services. Both the tradies asked about the future layout so they could prepare for the return part of their visit," he says.
It's all a bit more difficult than it looks
When Graham began the installation he discovered his floor was out of plumb by around 3cm.
"Fortunately the kitchen cabinets come with adjustable legs so it wasn't too difficult to get them to a consistent level. It's all a bit more difficult than it looks," he says.
He hit another snag when he went to install his custom-built benchtops.
"One of the benches wouldn't lay flat as it was too wide; a few millimetres shorter and it would have been perfect," he says.
"But the advantage of using the in-home consultant is that if the bench tops don't fit, then they are responsible for the cost of modifying them to ensure they do. [But I soon discovered] there's a bit of wriggle room in that statement.
"I called my local store. They gave me an 'it's not our fault' response and had the consultant call me. He said they only guaranteed the bench tops within plus or minus five millimetres. I can understand that, but I'd like to know why they didn't tell me this in the first place."
It was suggested to Graham that he use a router to trim the back of the benchtops to make them the correct size.
"I didn't have a router so had to buy one," he says.
After a busy few weeks installing the kitchen, Graham's contracted plumber and the electrician both returned and he finally had running water, lights and working power points, oven and cooktop.
"Overall I'm glad I did it. The product is of high quality; it's solid and it looks good. I've started to enjoy being in the kitchen again and I'm cooking a lot more," he says.
We care about accuracy. See something that's not quite right in this article? Let us know or read more about fact-checking at CHOICE
Join the conversation
To share your thoughts or ask a question, visit the CHOICE Community forum.
Tags:
does bunnings have robot vacuum cleaners