Washing machines to avoid buying
Need to know
Life's too short for a lousy washing machine and, unfortunately, our experts have seen plenty in our lab tests.
"A poorly performing machine can be a double blow for your washing and your wallet," warns our resident laundry expert, Ashley Iredale. "Not only do they do a bad job of cleaning your clothes, they often use more water and power to do it, which means even bigger costs in the long run."
To help you avoid these lose-lose type situations, Ashley and our experienced team meticulously test machines from popular brands including Fisher & Paykel, LG, Bosch, Miele, Samsung, Simpson and plenty more.
Our laundry expert Ashley Iredale does a LOT of washing.
Using identically stained fabric swatches and special frey swatches for every model, our testers evaluate key criteria such as dirt removal, gentleness, rinsing, water and spin efficiency (learn more about how we test).
"We've reviewed machines ranging from $500 to $4000 and often find a bigger price tag doesn't always mean better performance – sometimes, far from it!" warns Ashley.
We don't want you to end up with an average washer, so here are the ones that scored lowest in our lab tests. Consider becoming a CHOICE member to see the best performers.
On this page:
Lowest-scoring top loaders
1. Samsung WA85N6750BV
Samsung WA85N6750BV.
Sadly, this Samsung top loader doesn't tick many boxes at all. It rated just OK for all-important dirt removal and borderline for gentleness and spin efficiency in our specific tests.
However, that pales in comparison to its jaw-dropping water efficiency score of just one percent. Top loaders are well known for their thirst when it comes to water, but this one guzzled a whopping 199 litres per load – more than four times as much as similar-capacity front loaders. That's wasteful for the environment and your water bills.
"Top loaders do need to use more water than front loaders because they need your clothes to be able to float freely, but this amount is just excessive," says Ashley.
Read our full Samsung WA85N6750BV review.
2. Samsung WA13M8700GV
Samsung WA13M8700GV.
Not to be outdone by the previous Samsung, this bigger model scored an unbelievable zero percent for water efficiency, guzzling an appalling 214 litres of water for a wash cycle. Ouch!
"When other comparable washers have proven you can do a better job with much less water, why does such an abomination exist – particularly in a dry country like Australia where every drop counts?" says Ashley.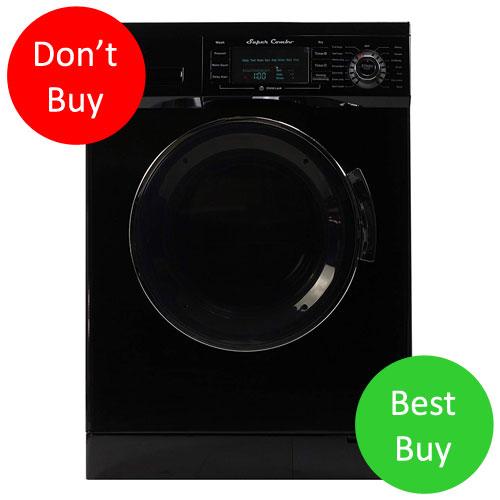 On the upside, it scores slightly better for dirt removal, gentleness and spin efficiency than other models here, but that's not saying much. By comparison, our experts found similarly sized and priced models that performed far better so definitely seek them out instead.
Read our full Samsung WA13M8700GV review.
3. Fisher & Paykel WA7060G2
Fisher & Paykel WA7060G2.
This Fisher & Paykel machine is excellent at rinsing but not much else, receiving a CHOICE Expert Rating of just 60%. It's pretty darn terrible on the water efficiency front, scoring a dismal 21% and using a shocking 163L of water per cycle.
It's also relatively expensive to run: it'll set you back around $1295 in running costs alone over 10 years. (We work this out by calculating how much it costs to do one 'normal' cycle every day for 10 years, based on 30c/kWh for electricity and $2/1000L of water. This doesn't include detergent, which can be up to a third of your washing machine's running costs.)
Lowest-scoring front loaders
First things first: front loaders perform a lot better than top loaders, which you'll see reflected in the higher scores below. To be fair, these models all rated well enough. That said, they still ranked lowest for front loaders tested and our experts found better performing ones for a similar price or cheaper.
1. Haier HWF10DW1
Haier HWF10DW1.
As the lowest scoring front loader in our test, this machine isn't actually bad – it's just not as good as other models we reviewed.
"It's a solid middle-of-the-road performer," explains Ashley. "It'll do the job, but you can get a better wash for the same money, or even less."
This washer rated solidly for dirt removal and very good for rinsing and water efficiency. But it was let down by its ordinary gentleness and spin efficiency. You can do better.
Read our full Haier HWF10DW1 review.
2. Fisher & Paykel WH1060P1
Fisher & Paykel WH1060P1.
This Fisher & Paykel cleaned well and rinsed even better, but fell down in our clothes gentleness test with a lowly 49% score. So if you care a lot about your clothes or wash a lot of delicates, you might want to avoid this model's rough tumble.
Our experts also found it's not as water efficient as the other front loaders listed here and also used notably more power. That's probably because its wash cycle time clocked in at 108 minutes, compared with the 70-ish minute mark for the other models on this list.
Read our full Fisher & Paykel WH1060P1 review.
3. Asko W2084CW
Asko W2084CW.
This middling model revealed another mixed bag of test results. It did fare better for gentleness and spin efficiency than the Fisher & Paykel, but didn't clean or rinse as well.
On the upside, it did rate very well for water efficiency, scoring 89% and outperforming all other similarly-sized machines on this stat. On the downside, our tests found it quite loud and a lot noisier than other models mentioned here.
Read our full Asko W2084CW review.
Washing machine buying tips
Ashley says you should avoid making impulse buys on an important appliance such as a washing machine, no matter how much of a discount is on offer.
"Don't be tempted by discounts on more expensive, feature-rich machines if you're not going to use those features," he says.
He also advises looking for deals with free delivery and avoiding poor-quality extended warranties: "They can eat up any sales savings and aren't worth the paper they're printed on."
For more top tips, visit our washing machine buying guide.
We care about accuracy. See something that's not quite right in this article? Let us know or read more about fact-checking at CHOICE
Join the conversation
To share your thoughts or ask a question, visit the CHOICE Community forum.
Tags:
where to buy haier robot vacuum cleaner in australia