We Tried It: The Best Air Purifiers for Clean Breathing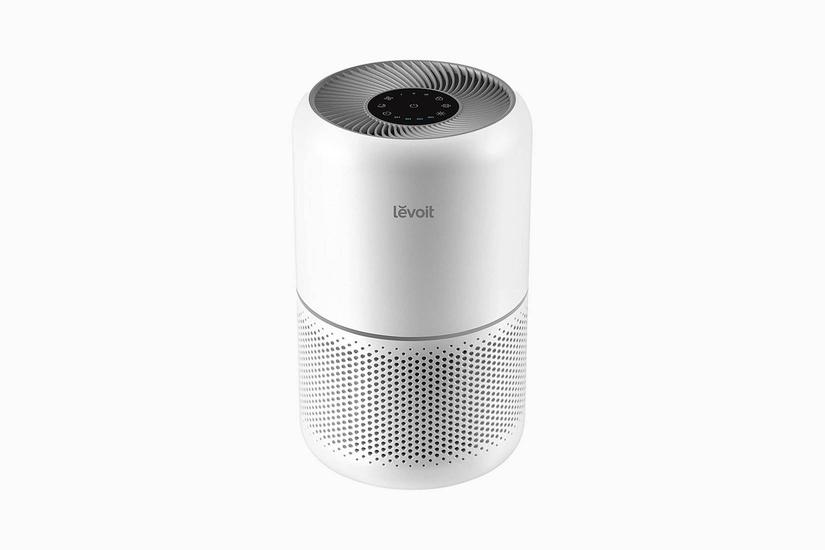 The Humidify+Cool has a HEPA filtration system and a separate carbon filter detects formaldehyde. I guess it could be due in part to my obsession with clean air, but so far the Dyson has reported good air quality every time I've checked in–the only exceptions being after I've lit candles or cooked something on the stovetop. But when the air quality has dipped below ideal levels, it doesn't seem to take much time for the purifier to do the job once I turn up the fan speed (it should be noted that this model also has an auto purify setting that will kick into high gear if the quality dips, but it is a little loud for my taste so I tend to keep it on a lower setting).
While I hate having an app for literally every device in my home, installing the Dyson Link app really did make installation a snap. And I love being able to check in on the air stats (temperature, particle level, humidity level, etc) whenever I want. You can also control the fan speed, oscillation range, and set timers from the app.
As for specific features I appreciate, filling the water tank from the top is a huge plus and it's large enough that it doesn't have to be refilled every day. I also appreciate the night mode setting, which makes everything a little quieter and less bright.
What I would change: This may be a misconception about the purpose of a humidifier, but I am used to really intense humidifiers that emit visible plumes of moist steam all night long. This is not that. The humidity that the Dyson model generates in the house is definitely a healthy and reasonable level (most sources recommend 30–50% humidity, and the Dyson, at its highest humidity setting, hovers around 60%), but if you are like me and want more targeted humidity in the super dry winter months, this is not the machine for you and you might want to stick to separate devices for purifying, humidifying, and cooling.
The bottom line: Aside from the note above, this is a really expensive device, coming in at more than $800. That said, it might actually save you money in the long run if you don't want to buy a purifier, a fan, and a humidifier individually and you want a powerful device for each activity. I'd recommend it if you have deep pockets and not a ton of challenging air pollution situations to combat on the regular.
BUY NOW
---
Dyson Purifier Hot+Cool Air Purifier, Heater, and Fan
Dyson Purifier Hot+Cool Air Purifier, Heater, and Fan
$650 at Dyson$650 at Best Buy
Tester: Audrey Lee, commerce writer
My space: I'm always looking for ways to protect myself from anything that could flare up my eczema and dust allergies, but once pollen gets thrown into the mix, all bets are off. While I do a pretty good job of catching the visible aggressors with dusting and vacuuming around my house, it's difficult to monitor microscopic allergens and airborne contaminants, so I'm usually left sniffling or itching during transitional seasons.
Tags:
why is my robot cleaner so noisy